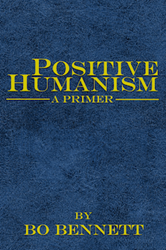 This book provides an evidence-based, secular philosophy of well-being for the rapidly growing number of people who are leaving established religion and embracing reason.
Sudbury, MA (PRWEB) November 17, 2014
It is nearly impossible to imagine a world without religion, or more specifically, to imagine a life of morality, deeper understanding, and personal fulfillment without deities and religious doctrine to guide the way. In his new book, 'Positive Humanism: A Primer,'—a collection of compelling essays—author, prolific entrepreneur, and social scientist Bo Bennett explains the science and applied philosophy behind his claim that it is possible to adopt a secular worldview that supports and furthers individual and societal well-being. Driven by his own personal experiences, his self-described "passion for critical thinking," and his doctoral training in social psychology, Bennett covers issues that are relevant across the globe—morality, humanism, religion, reason and rationality, freewill, and life and death.
While many believe that God and the tenets of religion provide the foundation for morality and human values, Bennett proposes that positive humanism—a philosophy based on science, reason, and critical thinking that excludes supernatural, magical and mystical beliefs—provides a rational approach to improving the quality of life on a personal, professional and societal level, without sacrificing the collective greater good of humanity. "This book provides an evidence-based, secular philosophy of well-being for the rapidly growing number of people," says Bennett, "who are leaving established religion and embracing reason, or contemplating a more secular worldview, who want a higher quality of life than they had under their religious worldview."
Bennett illustrates his perspective in a series of short essays that examine age-old questions—and humanity's struggle for answers—about the origins of morality, freewill, fear of death, and the belief in an afterlife. Bennett uses his expertise in critical-thinking and reasoning—backed up by science, research, and empirical evidence—and proposes alternative ways of looking at these issues where faith-based solutions have historically fallen short and don't hold up when approached from a scientific standpoint.
Raised Catholic, Bennett presents his ideas in an educated, informed, non-threatening manner and shares the story of his own journey from 'believer' to 'positive humanist.' Along the way he made life-changing, well-informed secular choices that he maintains have significantly bettered his own life in a way that religion—and all the beliefs that come with it—never did. But Bennett doesn't use his book to bash religion. Positive humanism, he explains, is not about anti-religion, rather it is about the benefits of embracing humanism itself and the secular, evidence-based philosophy that drives it.
"I realized that much of the animosity and mistrust towards non-believers resulted from a lack of understanding—partly due to the non-believer's inability to articulate his or her position on issues such as morality," says Bennett. "I realized that promoting the benefits of a secular worldview rather than criticizing religious ones would be a far more effective way to let the religious community know that we non-believers are good, trustworthy, moral people who also experience awe, wonder, and joy."
'Positive Humanism: A Primer' is published in eBook format by eBookIt.com and is now available at popular online retailers including Amazon.com, Barnesandnoble.com and Apple's iBookstore.
Review copies of 'Positive Humanism: A Primer' are available to media contacts upon request. Author Bo Bennett is available for interviews.
CONTACT:
Bo Bennett
pr(at)ebookit(dot)com
978-440-8364
About Bo Bennett
Successful entrepreneur and published author, Bo is currently the producer and host of The Humanist Hour, the official broadcast of the American Humanist Association, where he can be heard weekly discussing a variety of humanistic issues, mostly related to science, psychology, philosophy, and critical thinking. He is currently a PhD candidate working on his dissertation in social psychology.
About eBookIt.com
Since 2010, eBookIt.com (based in Sudbury, Massachusetts) has helped thousands of authors and publishers get their books converted to ebook format, and distributed to all the major ebook retailers, including Amazon.com, Barnesandnoble.com, Apple iBookstore, Kobo, Sony Readerstore, Ingram Digital, and Google eBookstore.