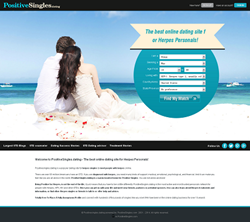 Positivesingles.dating
(PRWEB) September 04, 2014
Hillard Weinstock, author of "2011 Sexually Transmitted Diseases Surveillance" said, "STDs continue to threaten the health and well – being of millions of Americans". It was also reported that most of the people with an STD were youngsters in the age group of 18 – 25. Although it cannot be ridiculed that people in 40s and 50s are not infected by a STD, their strength is negligible compared to the younger lot.
Popular dating platform, Positive Singles claims that they have witnessed a huge inflow of male users, courtesy of these trends. In fact, the latest figures confirm that over 100,000 male users have become a part of the Positive Singles community in the first season of 2014. A spokesperson from Positive Singles said, "The number of male users on our website has grown manifold in the recent months. The rate of increase has been around 40 percent compared to the same period last year."
Please check this link to get the full information: http://thinkprogress.org/health/2014/01/10/3145111/std-rates-cdc-2012/
According to the information given by the CDC, the Government spends over $17 billion a year in the treatment of sexually transmitted diseases. According to a study, there has been an 11 percent rise in the number of syphilis infections among men. On the other hand, the rate of increase in the number of gonorrhea cases among the male population stands at 8.3 percent.
Public health advocacy groups and several NGOs believe that there is a dire need to provide better sexual health resources for younger people. Emily, founder and CEO of a Detroit – based NGO said, "It is the need of the hour to increase the awareness of STDs among various sections of the society. We have been conducting various workshops in schools and universities to make youngsters aware of the causes of STDs as well as precautionary measures that must be followed in case you already have one."
Medical experts believe that the ignorance of youngsters and failure in diagnosis of a STD leads to serious consequences. Dr. Steven, a STD researcher at the University of Washington said, "It is often seen that most people with a STD are not aware of their medical condition. When they engage in activities such as oral or vaginal sex, the infection is transmitted. This is exactly why the number of STD cases has been on the rise in our country".
Dating websites such as positive singles have been lending unconditional support to people with herpes. Not only does the platform encourage STD dating but also provides a great deal of information on every sexually transmitted disease.
For more details, please check positivesingles.dating