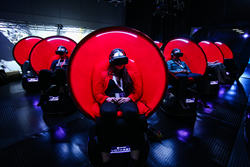 "Positron is excited to license its technology to accelerate the launch of new XR cinemas. As a result, VR content creators will benefit from more distribution outlets" — Jeffrey Travis, CEO
LOS ANGELES (PRWEB) September 20, 2020
Positron, a leading provider of XR Cinema systems, known for its acclaimed Voyager® VR motion chair, announced today the launch of a global intellectual licensing program. The Positron IP Licensing program will make available the patents, designs and software suite of Positron's award-winning VR chair for partner companies to manufacture and sell their own customized VR chairs.
Brogent Global, Inc. signed a non-exclusive patent license agreement with Positron, becoming the first company to license the technology. The company has immediately started manufacturing its own version of the Voyager® VR motion chair for use in location-based entertainment. Brogent is best known for its I-Ride flying theater attractions around the world.
"By partnering with companies such as Brogent who are embracing the future of immersive entertainment, we believe we can greatly accelerate the expansion of a cinematic VR network," said Jeffrey Travis, CEO of Positron. "We're excited to work with Brogent's team to get more premium VR cinemas in the world, and particularly in Asia. Their innovation and engineering capabilities in themed entertainment will be a catalyst for location-based cinematic VR. And as a result, VR content creators will have more distribution opportunities for getting their content to audiences, which has always been our vision."
While the worldwide Covid-19 pandemic has slowed or closed many entertainment venues, Positron's Voyager® system has the advantage of providing semi-enclosed individualized pods, that have traditionally already been spaced 6 ft (2 meters) apart, providing an extra safety measure.
In addition to its Voyager® hardware and software system, Positron also continues to license cinematic VR content titles in its capacity as a VR distributor. At the Cannes XR festival this year, Positron introduced six finalists and a winner for the Positron Visionary Award, recognizing excellence in cinematic VR.