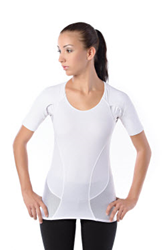 We've tried the other brands out there and know that healthy posture does not have to cost a small fortune.
San Luis Obispo, CA (PRWEB) February 18, 2015
Posa Wear is a new line of Performance Wear first introduced in 2013 that was highlighted on the Today show just a few months back. Posa Wear can help anyone sitting or standing for long periods of time to improve posture and reap the known benefits of compression wear. The under shirts are a slimming solution to improve posture. For a limited time only, save $5 on Posa Wear Performance Shirts with promotional code "Feb5" at checkout.
Unlike posture braces that restrict the body's movement, Posa Wear creates a mindfulness and awareness of this improved posture which, over time, will assist in re-training the muscles that have likely been underutilized, and will work to create new and healthy posture habits. Improved posture habits can set the stage to prevent or reduce muscle aches, pains, and fatigue that can result in decreased productivity and efficiency in the workplace.
As described by a company spokesman, "Posa Wear's line of Performance Posture Wear has compression properties that increase the flow of oxygen throughout the body to help relieve tense areas associated with arthritis, chronic fatigue syndrome, and occasional pain experienced from stiff and sore muscles. Equally important, it enables workers to move from meeting to meeting, emanating confidence and authority, as opposed to lethargic and sluggish movements often demonstrated from those experiencing pain or discomfort."
Posa Wear is an affordable option for all-day posture support, priced nearly 30% lower than most other posture shirt competitors. It offers moisture management, maximum comfort, and temperature control. The Posa Wear compression garment is made from a high performance material that provides stretch and comfort, with mesh panels in the underarm, side, and back panels and moisture-wicking materials used throughout the garment. By reducing friction, Posa Wear minimizes chafing and rashes typical with active sports, improving the body's health and preventing skin injury. Posa Wear is effective, slimming, and comfortable posture aid that does not skimp on quality, add bulk, or drain your bank account. Posa Wear doesn't spend excessive amounts on fancy packaging, professional athlete endorsements, or overcharge customers.
For more information on how to purchase, please visit the Posa Wear website, or for wholesale inquiries, e-mail the company at CustomerService(at)PosaWear(dot)com.