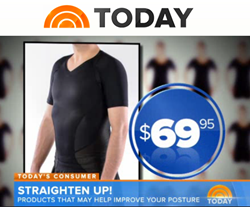 Posa Wear was recommended by the Today Show panel; evaluators could feel it pulling their shoulders back.
San Luis Obispo, CA (PRWEB) June 04, 2015
For a limited time, Posa Wear has lowered its prices in an effort to sell out of its existing inventory to make room for new. Starting today, the posture wear is available for $59.95 per shirt and shipping and handling is complimentary when you buy two (2) or more shirts.
Posa Wear made its TV debut on Saturday October 12, 2014 as the Today Show revealed its ratings of the newest posture products on the market.
Other device reviews included the Lumo Back sensor and app (pricing starting at $99), which sends a small vibration to the wearer to remind them to sit or stand tall. Lumo Back was rated a "C," as the reviewers thought the reminder activated too late. Another product reviewed was the Bouy Seat ($199), which tilts up to 12 degrees to engage the core muscles. The chiropractic students liked the Bouy Seat, but the producers thought the price was "hefty."
Posa Wear ($69.95) was recommended by the panel as they reported that they could feel the shirt pull their shoulders back. However, the reviewers awarded Posa Wear a "B" rating due to the cut of the shirts, especially in the arms, which they felt ran small. NOTE: Since the students evaluated the shirts, Posa Wear has made an adjustment to their sizing chart and now offers X-Large sizes in both the Slim and Regular fitted shirts.
Posa Wear is an affordable option for all-day posture support, priced nearly 30% lower than most other posture shirt competitors. It offers moisture management, maximum comfort, and temperature control. The Posa Wear compression garment is made from a high performance material that provides stretch and comfort, with mesh panels in the underarm, side, and back panels and moisture wicking materials used throughout the garment. By reducing friction, Posa Wear minimizes chafing and rashes typical with active sports, improving your body's health and preventing skin injury.
For information on how to purchase , please visit the Posa Wear website, or for wholesale inquiries, email the company at CustomerService(at)PosaWear(dot)com.