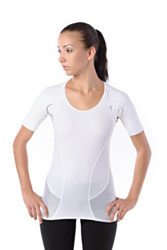 Posa Wear wanted to introduce an affordable option for those seeking to improve their posture and one that does not skimp on quality, add bulk, or drain your bank account.
(PRWEB) September 24, 2015
The popular, affordable and effective posture-correcting shirts must go, so the company is slashing their already-low prices to make room for this year's styles.
Posa Wear, featured on The Today Show this past October, offers all-day posture support with moisture management, maximum comfort and temperature control.
Using the consumer feedback from our current shirts, the company is planning a re-launch of the new shirts when they come out. The compression garment is made from a high performance material that provides stretch and comfort, with mesh panels in the underarm, side and back panels and moisture-wicking materials used throughout the garment. By reducing friction, Posa Wear minimizes chafing and rashes commonly contracted from active sports. This improves your body's health and prevents skin injury. These qualities will not change, the new design mostly addresses the sizing of the shirts.
And no need to wait to know Posa Wear is doing its job: As one Today Show reviewer said of the garment, "I can feel it pull my shoulders back."
There is no better time to try out a Posa Wear shirt with these prices, now $29.95 each (regularly $69.95, already priced nearly 30 percent lower than most of its competitors). This sale begins Wednesday, September 23, 2015 and will be available for a limited time only.
Size selection and inventory is limited and all sales are final.
Posa Wear is an affordable option for all-day posture support, priced nearly 30% lower than most other posture shirt competitors. It offers moisture management, maximum comfort, and temperature control.
For information on how to purchase , please visit the Posa Wear website, or for wholesale inquiries, email the company at CustomerService(at)PosaWear(dot)com.