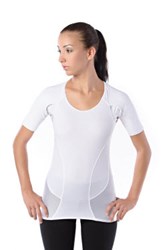 Simply choosing to alter body posture to a more upright position can improve mood and energy levels.
San Luis Obispo, CA (PRWEB) October 23, 2013
It's that time of year again, the days are shorter and the dog days of summer are waning. The sun doesn't rise until after we've poured the coffee and it's nearly dark on the drive home after work. For those who are already reeling from Seasonal Affective Disorder (also referred to as SAD), or are just mourning the loss of summer, a small change in posture by wearing the new Posa Wear posture wear can help combat the drop in energy and positivity.
Professor of Health Education Erik Peper has performed studies on how posture affects energy levels. His article published on October 5, 2012 in the journal Biofeedback found that movement and exercise can open up biological pathways that increase happiness and energy and in fact, recalling positive memories and feelings can be also consciously accessed. Simply choosing to alter body posture to a more upright position can improve mood and energy levels. This is in contrast to the slouched or despondent body posture that can lead to feelings of depression or decreased energy. The good news is those feelings can be reversed by walking [or sitting] in a more upright position, according to new research. What better way to put this small technique to work than – at work by wearing Posa Wear Performance Shirts.
Posa Wear's new line of posture performance shirts utilize their compression properties to increase the flow of oxygen throughout the body to help reinvigorate decreased energy levels. Equally important, displaying proper posture in the workplace emanates confidence and authority, as opposed to lethargic and sluggish movements often demonstrated from those experiencing fatigue, depression, muscle aches and pains that can result in decreased productivity and efficiency in the workplace.
Posa Wear shirts are designed with moisture management, maximum comfort, and temperature control in mind. The posture shirts are made from a high-performance material that provides the stretch and comfort found in many high-performance athletic garments. Mesh panels in the underarm, side, and back panels allow for maximum air ventilation to keep you cool under your clothing, and it's moisture wicking properties keep you dry. Posa Wear materials were carefully chosen to achieve a breathable, odor and bacteria resistant, comfortable, yet supportive fit.
Posa Wear believes that good health - both physically and physiologically - can benefit from both a healthy spine and a boost of confidence. Posa Wear wants to introduce an affordable option for those seeking to improve their posture. Posture wear that is effective and comfortable that does not skimp on quality, add bulk, or drain your bank account. We don't spend excessive amounts on fancy packaging, professional athlete endorsements, or overcharge our customers. Instead, we fully back our 30 day guarantee and actually encourage our customers to shop our competitors and try their shirts before they try ours. We think our high quality, corrective posture wear is the best on the market and it's our mission to offer posture support at an affordable price. Visit PosaWear today to learn more about Work Relief Wear, as well as the discounts available for purchases of two (2) shirts or more.