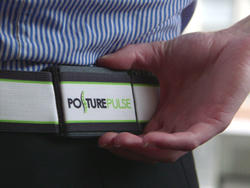 NEW YORK, NY (PRWEB) August 06, 2014
PosturePulse, a biofeedback belt that alerts the wearer of bad posture, will launch a crowdfunding campaign on Kickstarter on August 13, 2014. PosturePulse is a small device worn on the lower back that silently vibrates if the wearer slouches for more than seven seconds. When continuously worn, this feedback belt coaches users to always sit or stand upright.
Using an accelerometer, the same kind of motion-accurate chip used in gaming controllers and cell phones, PosturePulse takes several measurements per second to determine the precise angle of the wearer's back. If their back is not in the upright position for more than seven seconds, the device begins to vibrate gently until the spine is upright again. Additionally, the slim design of PosturePulse allows it to be worn confidently under clothes. The vibrating pack measures only ½" deep, 3" wide and 2.5" tall, and weighs less than several quarters.
PosturePulse also allows flexibility for those who want to wear it all the time, at a desk or on the go. The belt can be attached to a desk chair by looping it around the armrests. Using this method, the user does not have to wear it everywhere, but will still be alerted when they begin slouching while sitting. The comfortable belt is also secure enough to wear while standing, walking around or even running.
PosturePulse was designed with simplicity in mind, and requires no syncing, connecting, apps or cell phones. The on/off switch is the only button on the device, and the only set-up required is charging with a mini USB charger. The internal battery on the device lasts for about one week of regular usage.
PosturePulse will be crowdfunding on Kickstarter for a 35-day campaign, beginning August 13, 2014. Contributors can receive their own PosturePulse for $79. For more information, visit http://www.posturepulse.com.
ABOUT POSTUREPULSE
PosturePulse is the flagship product from bodyLAB, a New York City-based wearable computing laboratory that creates embodied technology that is accessible and easy to use. Utilizing her 10 years of experience as a designer and partner for an apparel firm, creator Crystal Butler designed the PosturePulse with comfort and fashion in mind. Utilizing her knowledge of design, wellness and tech, Crystal focuses her time on creating a line of products that not only look good, but also make life better. To learn more, visit http://www.posturepulse.com.