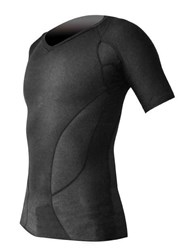 Posa Wear creates a mindfulness and awareness of this improved posture.
San Luis Obispo, CA (PRWEB) November 18, 2013
Posa Wear is a new line of Performance Wear that can help anyone sitting or standing for long periods of time improve their posture. The under shirts are a slimming solution to improve posture, and they are now available in black.
Unlike posture braces that restrict the body's movement, and prevent the body from actually "learning" the proper position to achieve and maintain good posture, Posa Wear creates a mindfulness and awareness of this improved posture which, over time, will assist in re-training the muscles that have likely been underutilized, and will work to create new and healthy posture habits. Improved posture habits can set the stage to prevent or reduce muscle aches, pains, and fatigue that can result in decreased productivity and efficiency in the workplace.
As described by a company spokesman, "Posa Wear's new line of Performance Posture Wear has compression properties that increase the flow of oxygen throughout the body to help relieve tense areas associated with arthritis, chronic fatigue syndrome, and occasional pain experienced from stiff and sore muscles. Equally important, it enables workers to move from meeting to meeting, emanating confidence and authority, as opposed to lethargic and sluggish movements often demonstrated from those experiencing pain or discomfort."
The shirts are designed with moisture management, maximum comfort, and temperature control in mind. The posture shirts are made from a high-performance material that provides the stretch and comfort found in many high-performance athletic garments. Mesh panels in the underarm, side, and back panels allow for maximum air ventilation to keep you cool under your clothing, and its moisture wicking properties keep you dry. Posa Wear materials were carefully chosen to achieve a breathable, odor and bacteria resistant, comfortable, yet supportive fit to help improve posture.
Posa Wear was created in 2013 to introduce an affordable option for those seeking to improve their posture. Posa Wear is effective, slimming, and comfortable posture aid that does not skimp on quality, add bulk, or drain your bank account. Posa Wear doesn't spend excessive amounts on fancy packaging, professional athlete endorsements, or overcharge our customers. Instead, we fully back our 30 day guarantee and actually encourage our customers to shop our competitors and try their shirts before they try ours. We think our high quality, corrective posture wear is the best on the market and it's our mission to offer posture support at an affordable price. Visit PosaWear today to learn more about Work Relief Wear, as well as the discounts available for purchases of two (2) shirts or more.