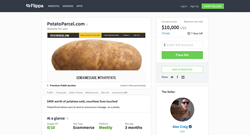 After a mere three months in business, this comical gag website has done a whopping $40,000 in sales.
San Francisco, CA and Dallas, TX (PRWEB) August 28, 2015
24-year-old Texas web entrepreneur Alex Craig has listed his massively popular viral website, PotatoParcel.com (https://flippa.com/5439532), up for auction on Flippa, the world's largest websites marketplace.
Launched in May, PotatoParcel allows customers to craft personalized messages, which are then inscribed on a potato and shipped anonymously to unsuspecting recipients. After a mere three months in business, this comical gag website has done a whopping $40,000 in sales and received a flood of media attention.
During an interview with an ABC news affiliate in Dallas, Craig explained that his girlfriend had once told him this was the "stupidest idea ever," and predicted he "would not sell a single potato." However, it quickly became evident that her predictions were wrong, as the site generated over $2,000 in sales in the first week.
Things have only picked up since then, with Craig estimating that the site is now earning about $10,000/month. When asked why he was putting the site up for sale Craig said, "It's been a wild ride. I've had a lot of fun, shipped thousands of potatoes, and touched countless lives – for better or for worse, it's time for me to move on and find new ownership that can take this business to the next level."
PotatoParcel follows a number of viral websites listed up for auction in recent months including fellow prank site ShipYourEnemiesGlitter.com, which sold on Flippa for a stunning $85,000 in January. No word yet on whether Craig's PotatoParcel will match that sale, but in the first 24 hours of the auction he's already received 72 bids totaling $10,000. When asked what he's hoping to get for the site Craig replied, "I'm in the business of selling potatoes, I'll leave the website valuations to the professionals."
-------------------
More about Flippa.com
Flippa was spun out of the SitePoint.com Marketplace in 2009 by founders Mark Harbottle and Matt Mickiewicz, also Founders of 99designs.com and Hired.com. Since then, it has processed over $150,000,000 in transactions of websites, domain names, and smartphone apps.
In the past, websites sold on the platform have included The Inquisitr (for $330,000), ShipYourEnemiesGlitter (for $85,000), Trampolines.com (for $81,500), and even Facemash.com (which was originally launched by Mark Zuckerberg and sold on Flippa for $30,000 in 2010).
------------------
Press Contacts
Joseph Carroll
Director of Websites
Flippa
joseph(dot)carroll(at)flippa(dot)com
+1 (707) 799-8785
Luke McCormack
Director of Business Development
Flippa
luke(dot)mccormack(at)flippa(dot)com
+1 (415) 738-9702