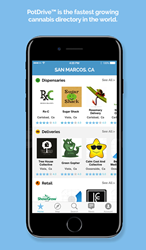 It's the largest, valid representation of the entire global cannabis marketplace at your fingertips.
SAN MARCOS, CA (PRWEB) January 25, 2017
The world's largest cannabis directory, POTDRIVE™, is set to release 1st Quarter 2017 to an industry only too willing to connect and grow: The global cannabis community. POTDRIVE™, is the newest concept and product from Mr. Bardia Rahimzadeh ('Rahim' for short). POTDRIVE™ is an App representing the world's largest search engine and B2B utility platform firmly focused on the cannabis community's growing world market. "The POTDRIVE™ App is the 'Google® -meets Yelp®- meets Uber®' application that will support and enhance the explosion of cannabis B2B entities as well as their resulting consumer base. It's the largest, valid representation of the entire global cannabis marketplace at your fingertips," says Bardia Rahim founder and creator of the POTDRIVE™ App.
The POTDRIVE™ App stands out as an exciting leader amongst data platforms and technology products in the cannabis market. The POTDRIVE™ App is a data management platform developed on a structure of superior algorithmic query. The user interface refines and enhances the quality of cannabis business and consumer data into an easy to use application. Proprietary filters allow for geo-positioning and other functionalities to refine search results, improve market presence for business participants, and add an increase in awareness of local resources for the end-user. The app will give local businesses a growth in consumer buying activity not only because they are discoverable, but because the back-end analytics will allow finer targeting of their customer. Even more, POTDRIVE™ has extensively validated its database for accuracy, unlike its competition, which is no easy feat given the over 1.2 million data entries. The passion and drive for solid market research, software development, and data integrity has created a top-of-the-line resource for consumer and B2B groups alike. As a well-received alternative, consumers and businesses will gladly add POTDRIVE™ to their list of App downloads.
A strong market reception for POTDRIVE, Inc. will directly add to the positive outlook of the growing cannabis market. CNN Money's Aaron Smith indicated "the national market," would surge, "to $21 billion by 2020, according to New Frontier Data, which partnered with the marijuana industry organization Arcview Group. That is up from $5.7 billion last year and an expected $7.9 billion this year." Amongst the wave of corporations quickly moving towards tradeable "stock," POTDRIVE, Inc.'s unique product will be the conduit that increases communication between growers, dispensaries, doctors, lawyers, delivery services, specialized cannabis industry experts (PR firms, Consultants, Financial Experts, etc), but most importantly the medical marijuana patients and recreational community.
The POTDRIVE™ App is the future of the world's Cannabis connectivity. The POTDRIVE™ App will be available as a FREE download on iOS and Android devices. All application functions will be available and active at time of download. Led by Bardia Rahim's decade of product development, market analysis and handpicked corporate team, POTDRIVE, Inc. is a up-and-coming technology company. POTDRIVE, Inc.'s commitment for the best in high-quality, consumer products is an extension of Bardia Rahim's philosophy, stating, "We only develop the best in lifestyle products." Since 2008, Bardia Rahim has been a conscious entrepreneur, and the POTDRIVE™ App stands to leave a significant mark on the future of the cannabis marketplace. To learn more about this exciting technology platform and investment opportunities, please visit http://www.potdrive.com or find them on Instagram @POTDRIVEUSA.