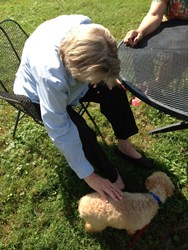 Amber is such a joy to be around. She is friendly, loving and is fun to play with!
Potomac, Maryland (PRWEB) July 31, 2013
The residents and staff of Potomac Seniors Village are excited to welcome a new member to the facility. The assisted living Bethesda center officially adopted Amber, a light brown miniature poodle, as the facility pet. Amber was the proud pet of the late Louise Myers, a beautiful and loving resident who spent her last year at the senior care Maryland center. Her intense love and endless affection for Amber touched the hearts of all residents and staff. Amber has become an important part of the assisted living Bethesda facility and continues to receive the same love and care as she did from her original owner.
Potomac Seniors Village continues to elucidate its leadership in the field of elderly care. It has placed itself on the cutting edge of providing elderly care in the Washington Metropolitan area. Potomac Seniors Village has become the lone ranger in its mission to disseminate the truth about the benefits of pets in assisted living facilities. The senior care Maryland center truly believes that a pet can become a senior's best friend.
There have been many studies that have proven that the effects of pets like dogs or cats at assisted living facilities provide for a great support system emotionally to all seniors. The presence of dogs and cats has helped improve the well being of residents because it encourages building a relationship. According to one study, keeping pets cycles an important mechanism that provides for residents being emotionally ready with events such as anxiety. For example, patients with mental illnesses that are in hospitals are often treated with animal pet therapy in order to reduce anxiety levels (ps.psychiatryonline.org/article.aspx?articleID=81469). According to the Center for Disease Control (CDC) pets have also been found to be helpful in reducing blood pressure and cholesterol levels (cdc.gov/healthypets/health_benefits.htm). Research has shown the true immediate effects of pets on people with dementia. These studies have proven the "Eden Alternative," a term developed by Dr. William Thomas. This suggests the inclusion of animals have combated loneliness (caregiver.com/articles/caregiver/animal_caregivers.htm).
Positive emotions are often released through several forms of pet therapy. These actions include petting a cat's fur, taking a dog for a walk, or simply taking care for an animal. Positive emotions are further evoked because they demonstrate a reason for residents to engage themselves in daily affairs. Residents feel happy that they have unconditional love from their companion.
Like many other facilities around the United States, Potomac Seniors Village is also in the process of developing tools and protocols to conduct its own findings on the effect of the presence of Amber on its residents. Amber's presence has increased positive interaction among residents at the senior care Maryland center. She is a very loving dog and the residents always enjoy her company by taking her for a walk or simply having a conversation. Much like how the residents are getting used to Amber's companionship, Amber is getting used to many residents around.
Today's dogs and cats are a common sight in most assisted living facilities as these pets become a constant companion to the residents. Cats, dogs, and other pets further benefit a resident who is emotionally traumatized by the thought of losing their privacy and independence when being admitted into an assisted living facility.
As more research studies explain the positive effects of keeping pets at assisted living facilities, it has become more common to see pets residing in the senior care homes. While there was once a time when pets were not allowed in facilities, guidelines are always changing as all senior care Maryland centers have only one focus, which is the residents. If having a pet in a senior home is the best way for residents to cope with hardships or if a pet simply makes them happier, the assisted living Bethesda facility is happy to embrace the new norm.