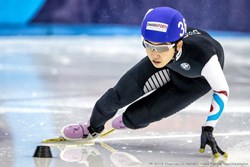 "...Just to have qualified to skate in the US Olympic trials puts me in the top 27 skaters in the US"--Potomac skater Shaner LeBauer, age 17
Salt Lake City, UT (PRWEB) December 31, 2013
Three Maryland teenagers, Thomas Hong from Laurel, Shaner LeBauer from Potomac and Rockville's April Shin will be competing at the US Olympic short track speedskating trials in Salt Lake City Jan. 2-5, 2014. Both Hong and LeBauer are members of the Potomac Speedskating Club coached by 1994 Olympic 500m Men's short track speedskating champion Jihoon Chae. Shin is a member of the Dominion Speedskating Club based in Virginia and is coached by Woook Byun. All three skaters train at the Cabin John Ice Rink in Rockville and the Wheaton Ice Arena in Wheaton, Maryland.
Coach Chae considers all three teens to be strong contenders for the 2018 Olympic team, and these trials are an important step towards that goal: "These skaters have already demonstrated excellent potential and are fine-tuning their technical skills and gaining valuable racing experience that will motivate them through the next four years of training." LeBauer concurs, declaring that "Realistically I am not going to make the team this year, but just to have qualified to skate in the US Olympic trials puts me in the top 27 skaters in the US." Now 17, LeBauer is the 2013 US Men's Junior 15-16 National Champion, and is a senior at Winston Churchill High School in Potomac and has applied to colleges where he can continue to train while pursuing his academic goals in 2014 and beyond.
Hong, now 16, is a six time US National Champion who began skating at age 4; he returns to Korea each summer to train with some of the top skaters in a country that has dominated the Olympic podium for short track speedskating since it was first introduced as an official Olympic sport in 1992 . Shin is a 15 year old sophomore at Richard Montgomery High School in Rockville who recently won the American Cup I event in Saratoga Springs, NY on November 3, marking her arrival on the scene as one of the top American skaters of the future. She also boasts numerous US National Championship short track speedskating titles.
For the first time, NBC Sports will be broadcasting the US Olympic Trials for short track speedskating. The 1500m events will be shown Friday Jan. 3 from 8-9 pm ET, the 500m events will be highlighted on Saturday, Jan. 4 from 4-5 pm ET and the 1000m events will be broadcast on Sunday, Jan 5 from 4-5 pm ET. On Thursday, Jan. 2, before the broadcasts begin, all skaters will skate a 1000m qualifying time trial race; only the top 16 will advance to compete in the actual races that will be broadcast by NBC. There are 27 men and 17 women entered in the trials.
About Potomac Speedskating Club
Potomac Speedskating offers year-round speedskating programs for novice to advanced speedskaters from ages 5 through Masters in DC, Maryland and Virginia. Featuring world-class coaching by Jihoon Chae, 1994 Olympic 500m Champion & 1995 World Champion. Great cross training for hockey, figure and inline skaters too! Visit http://www.potomacspeedskating.org for more information.
About US Speedskating
US Speedskating is a non-profit organization recognized by the United States Olympic Committee and the International Skating Union as the governing body for the sport of speedskating in the United States.
Its mission is to be one of the premier speedskating organizations in the world through excellence in leadership, development and performance. To date, US Speedskating has won 85 Olympic Winter Games medals, making it the most successful sport in the United States. Visit US Speedskating for more information.