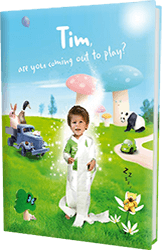 There are tried and true methods to potty training but sometimes the big leap takes a little more getting used to.
Monroe, New York (PRWEB) December 20, 2013
New from KD Novelties, specializing in children's personalized books and gifts, is a new personalized reading adventure, their Potty Hero photo book introduces potty training to children in a fun and familiar way. This personalized photo book inserts the child's photo into their own superhero story where they take charge of their potty training and become familiar with the potty in real life.
Potty training is a difficult task, often requiring a lot of patience and a lot of trial and error. By introducing your child to the potty through reading and visual learning, you can help speed up the process. Kids are afraid of the potty because it's new, it's different, and it marks one of the first big changes in their lives. "There are tried and true methods to ease kids into using the big kid potty, but sometimes the big leap takes a little more getting used to before the ball gets rolling," says Kim Delgado spokesperson for KD Novelties.
Using the big kid potty is a big step for kids. It marks their becoming a "big kid" and is the first big change in their lives before they go to preschool or kindergarten. Being potty trained means responsibility, often the first kind of personal responsibility children learn. Fear of the potty is a fear of their comfort zone, one where they know they are always taken care of, but with this personalized photo book, children can see that potty training isn't so scary, and they can even see themselves portrayed in the story!
By seeing their faces inserted into this fun adventure, along with animals they know and love in beautiful settings, children can get used to the idea of themselves interacting with the potty while parents are training them to use it. The story shows kids as heroes who are already familiar with the potty and not afraid to take on adventure. This personalized story book places the child's face directly into a world where the potty is no match for them and they can more easily imagine themselves on the potty in real life. If they can see themselves already in a state where they are comfortable using the potty, it becomes less scary and more exciting. Seeing themselves take charge of their own story will inspire them to be big kids even when story time is over.
KD Novelties has an A+ ranking from the Better Business Bureau and offers children's personalized books that make reading fun, interactive and promotes self-esteem and self-image in children. Their goal is to make every child a star of all of their products as they also offer personalized children's music and personalized photo DVDs placing kids into their very own cartoon adventure. For more details visit the KD Novelties website.
KD Novelties
Personalized Books
New York