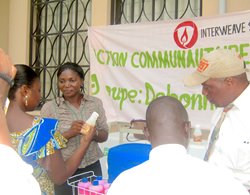 We're happy to have been a part of this sustainable solution to overcome poverty [in Africa]
Provo, UT (PRWEB) December 22, 2014
A December, 2014 report from Kinshasa, Democratic Republic of Congo (DRC), highlights the results of a three-year collaboration between the Church of Jesus Christ of Latter-day Saints and Interweave Solutions. Over 4,000 people have taken part in self-reliance groups in 15 cities; 1,974 businesses are operating which were launched or improved as a result of the initiative to overcome poverty in Africa.
In 2011, the Church asked Interweave Solutions to offer its "Success!" curriculum to leaders of the Church in the French-speaking sector of the Africa Southeast Area. Emanating from Kinshasa, specialists in congregations learned how to facilitate groups who were eager to learn how create or improve their own businesses and become self-reliant. The program took root in Kinshasa and then spread to other cities in DRC such as Lubumbashi, Likasi and Kolwezi and half a dozen more. Then people began forming self-reliance groups in The Republic of Congo (Brazzaville and Pointe Noire) and in Cameroon (Yaoundé and Douala).
"I was so thrilled to see so many success stories 3 years after our work in the Conga was completed," said Brent Anderson, Interweave facilitator. "We're happy to have been a part of this sustainable solution to overcome poverty."
During a tour of several cities in these countries Mr. Anderson visited businesses that have resulted from or been improved by participation in these self-reliance groups. Repeatedly, participants like Giselle Tshibola in Kinshasa told of learning that they were able to save money and acquire equipment and inventory for their businesses without recourse to loans. Andreguy Menyinga of Yaoundé decided to implement a business in which "our clients don't have to travel." He picks up laundry from his clients, washes and irons it and returns it to them. (By the way, he started with only enough to buy detergent and starch, but chose not to seek a loan.) He keeps accurate records and offers discounts to steady customers who commit all their laundry to him for a month.
Mr. Anderson attended the first certification ceremony held in Cameroon, where more than 50 individuals were recognized for completing instruction in the basic principles of operating their business. To become certified, each needed to write a business plan, keep profit and loss statements, prepare a year-long cash flow projection, promote the business and stabilize its processes.
People continue to participate in these self-reliance groups long after they've completed their certification. They find support and encouragement in continuously improving their businesses, as well as in strengthening their homes and communities. Interweave participates in self-reliance groups in multiple countries in Africa, Asia, and South, Central and North America.