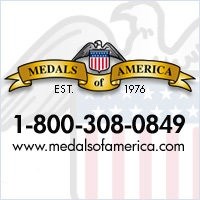 Dallas, TX (PRWEB) September 17, 2013
National POW/MIA Recognition Day was created to bring honor to those who were prisoners of war and those still missing in action. It was established by an Act of Congress and is observed on the third Friday in September each year. On Recognition Day the POW/MIA flag is flown below or adjacent to the United States flag as second precedence. Medals of America's 'Some Gave All' T-Shirts are a great way to remember those who have given so much for the people with their duty and their lives. The families of POWs and MIAs appreciate knowing that their loved haven't been forgotten. These new shirts have been tactfully designed with the words 'All Gave Some-Some Gave All- You Are Not Forgotten' to bring honor to those that deserve it. They are manufactured with the same precise care as the other apparel made by Medals of America and are only available for a limited time.
About Medals of America
http://www.medalsofamerica.com/ is the premier source for military dog tags, army unit patches, medals, badges, military ribbons, patches, rank, rates and insignia, as well as custom embroidered clothing. We're also proud to offer our exclusive rack builder, military medals builder and custom display case builder.
Veteran owned and operated for more than 36 years! Our mission is simple - we want every veteran and service person to display the medals our grateful nation awarded them. Anything we can do to have all the great Americans who served their country in the military forces display their award will enrich future generations by these symbols of Duty, Honor and Country.
Medals of America
114 Southchase Boulevard
Fountain Inn, SC 29644
800-308-0849