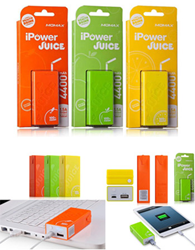 New models are added all the time, and USB Direct revealed that it is currently testing a combination power bank and portable speaker.
Ontario, Canada (PRWEB) May 17, 2014
USB Direct, a company that specializes in creating promotional flash drives for businesses, recently announced the launch of a new product, Power Banks, as well as a new in-house printing service offering the fastest turn-around in the industry. The company's latest resources can be useful to clients interested in finding creative ways to raise awareness for their small and large businesses.
Despite being launched a short time ago, USB Direct's Power Banks are becoming increasingly popular. USB Direct's website lists over a dozen different shapes and sizes, including solar powered banks. Clients can order a minimum of 25 units and customize them with full color logos. These portable power chargers have different ranges of capacity, depending on size: the 2200 mAh size can provide approximately two recharges, and sizes scale upwards from there to a whopping 14,000 mAh, which can offer up to 10 or more charges on a single battery before needing a recharge itself.
The company's Power Bank range is being continuously updated. New models are added all the time, and USB Direct revealed that it is currently testing a combination power bank and portable speaker. Each item is tested rigorously in-house before being launched, and all models can be recharged between 500 and 1000 times.
In addition to the Power Banks, USB Direct also unveiled its new print services, which includes a three-day "Super Rush" and a 24-hour "premium VIP rush" on in-stock items. These services are two stages better than USB Direct's six to eight day rush service.
The company offers full color printing on almost any hard surface or material, especially because its printers have super high-resolution full color capabilities. USB Direct uses industry leading machinery that is capable of 5760 DPI printing on virtually any hard surface, including plastics, metals, woods, glass, acrylic, leather, rubber, paper and card-stock. The premium rush services are available on USB Direct's widened in-stock program, including the Swivel 01 in a variety of body colours, credit card USBs, and The Hardwood 01 USBs.
USB Direct offers a price-beat guarantee and a five-year warranty on all USB drives.
Individuals interested in learning more about USB Direct and its new services can visit the flash drive website for additional information. Readers are welcome to contact USB Direct with questions or concerns about its products, and are invited to subscribe to USB Direct's Facebook and Twitter for frequent updates about the company.
About USB Direct Canada:
USB Direct offers an exceptionally wide selection of flash sticks and branded USB keys in different materials, styles, and sizes to meet any company's promotional needs. All of these USB sticks are offered at competitive, affordable prices, and due to their functionality as well as style, they make fantastic gifts for corporate promotions. Custom logo printing and packaging as well as data preloading onto the devices can also easily be arranged. USB Direct serves both large and small companies and will work with clients to quickly and professionally meet their individual and customized USB needs. For more information, please visit http://www.usbdirectcanada.ca.