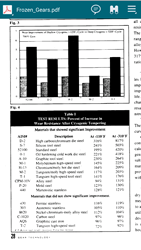 Decatur, IL (PRWEB) September 30, 2014
As heavy industry and politicians bemoan the downfall of reliability on newly constructed environmentally friendly energy generation technology, like wind turbines, a Central Illinois technology pioneer has refined its ultra-low temperature metal treatment process to improve components for wind power generation, and is now processing over a million pounds of steel per year. 300 Below, Inc. has led the fight for adoption of cryogenic technology into energy related applications since 1966, and recently renewed its partnership with Millikin University to research additional maintenance improvements for wind power generation equipment.
Megawatt class wind turbines are subjecting tribology components like bearings and gears to increasing demands for renewable electricity generation, creating operation and maintenance costs that are more than double the cost for natural gas powered generation. For engineers who spend time evaluating surface engineering and lubrication strategies, cryogenic processing goes beyond the typical heat treatment application to affect the entire molecular integrity throughout the metal component, permanently rearranging molecular structures in order to prevent galling and spalling while ultimately mitigating stress crack propagation. The cryogenic process for bearings improves wearability, contact fatigue, and failure reduction while limiting the effects of surface wear and scuffing.
For multi-stage gearboxes, consisting of a mix of parallel and planetary gear stages, the employment of bearings and gears are used for the blade pitch and nacelle yaw drives.
Corrosive deterioration is also reduced as a result of the tighter grain structure and precipitation of micro-fine eta carbides following 300 Below's two-part cryogenic tempering process. High contact stresses from unsteady wind gusts, impact loads and bearing skidding are significantly mitigated following the changes from cryogenics.
300 Below / CryoTech sponsored the initial industry research from Dr. Randall Barron of Louisiana Tech University that showed improvements of 415% in 52100 steel after its cryogenic process, and further testing from Millikin University's Institute for Science Entrepreneurship seeks to confirm these results in wind power generation specific applications.
About 300 Below, Inc.:
300 Below / CryoTech is the world's largest and oldest commercial cryogenic processing company, in business since 1966. Through a liquid nitrogen based process, molecular structures of steel components are rearranged to last 200-300% longer for around 20% cost of the component. 300 Below's cryogenic treatment acts an extension of the heat treatment process used in manufacturing defense and aerospace components, high-performance motorsports applications, 262,000+ gun barrels, sporting goods, musical instruments. 300 Below has started 156 operations in 36 countries around the world with its technology. Customers include NASA, all branches of the U.S. Military and their contractors.