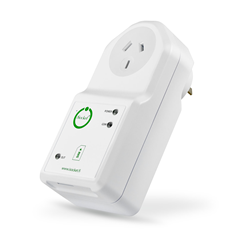 Don't let a power outage damage your property. Be informed about power outages and avoid disaster.
(PRWEB) January 08, 2015
iSocket Systems have introduced iSocket® for power outage monitoring to the Australian market. This plug-in device uses the Australian mobile networks and notifies the user immediately the power fails in a remote location. This allows people to take the appropriate action. The manufacturer does not charge for this service and claims that the cost of using iSocket can be as little as 9 cents a month. The product is fully certified for use in Australia and is unique on the market.
Australia's extreme weather regularly results in power outages. Farmers, boat owners, the fishing industry, frozen food suppliers, greenhouse owners, weather stations, data centres and everyday homes and offices stand to lose everything. Prompt reaction could reduce the collateral damage. With an immediate power outage alert, more time is given to take corrective action. For example, farmers could restore power to incubators or cattle feeders before permanent damage occurs, boat owners can react quickly when they lose shore power, greenhouse owners can restore power to their irrigation systems.
iSocket can send power failure alerts by text message to up to 10 pre-programmed numbers. The device is compatible with Telstra, Optus and Vodafone mobile networks, which means that almost all Australian territories are covered.
When asked why this is new for Australia the PR contact of the company, Doug Lumley, said:
"For Australia this is a new product, because only we offer a plug-in product tailored for power outage monitoring with the Australian standard plug. This is not a case of DIY, it's a ready-to-go product - no wiring, no complicated configuration. Just plug it into a power point and send the message "ALERTME" to the device, and it's ready for action. The product is certified and our local representative is the appointed Responsible Supplier for ERAC."
The good news is that the running cost of device can be as low as 9 cents per month. iSocket Systems recommend using prepaid SIM cards from virtual network operators that offer competitive prices without an airtime expiry date. One of these is Truphone SIM, who only charge 9 cents per message.
About the technology a FAE of a company, Tommi Haukka tells:
"This is not an audible alarm. Because it uses the mobile network it's international – whether you're on a business trip or on the beach, you'll get the sms and you can take action. We use a top quality li-ion battery that is sufficient to power a mobile module and send a power outage alert to several numbers, even after a break in the mobile network."
The product is available direct from local Australian stock via a new website https://www.isocket.com.au/ for a list price of AU $189, with a 30 day money back guarantee and 2 years full warranty. The product will also be available from local dealers.
iSocket Systems is a private company, incorporated in Finland, whose core activity is the design of electronic devices to order. In 2011, with the motto "Intelligent electronics for everyone" the company began to offer products manufactured to its own design specifications under the brand iSocket® - a group of intelligent devices for remote security and safety monitoring of premises. The range of products now includes 48 modifications of iSocket Smart Sockets with plugs for different countries, products from iSocket Smart Home family for integrators and M2M solutions for OEM manufacturers. iSocket Systems offers products to customers in 184 countries. These are ordered on the iSocket e-Store Global and dispatched directly from the warehouse in Finland. Products are also available from local dealers in different countries.