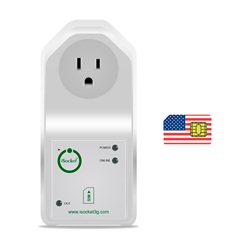 Power outages sometimes cause damage that can be avoided if a prompt alert is received.
Palo Alto (PRWEB) October 01, 2015
USA suffers more blackouts than any other developed nation, according to federal databases at the Department of Energy (DOE) and the North American Electric Reliability Corp. (NERC). Power outages cause costly damage to property owners and enterprises. For example, food stocks are spoiled, pipes are frozen or expensive equipment is ruined if power is lost for a long period. Frozen human organs can thaw when power to a medical fridge fails.
The problem is that, if the owner is away - for example, traveling, no-one knows that the power has failed. Some of this damage can be avoided if a prompt alert is received - allowing the owner to take steps to fix the problem - for example, call the maintenance company to start a generator.
iSocket Systems today announced iSocket® 3G – a power outage device that operates regardless of Wi-Fi and sends an alert directly to the mobile phone when the power fails. This solves the problem of a prompt alert.
This short demo video shows how it works.
https://www.youtube.com/watch?v=y2KWgMuCL6U
The Smart Plug operates on T-Mobile and AT&T 3G networks in USA. The CEO of iSocket Systems promised consumers and small businesses to solve their outage-related problems without a monthly fee for this service. Neither will they lock the device to operate with any specific mobile network. The cost of a power outage alert can therefore be as little as 9 cents.
The focus for the future will be on providing enterprises with reliable power outage monitoring solutions. The company is investing in a global monitoring solution that will help customers with several locations to monitor power failure efficiently. The product also comes with open API, is not locked to operate with any specific cloud, and it allows other developers to build their own power monitoring services.
The company announced a pre-ordering campaign that will offer early-birds this product for $119.
https://www.isocket3g.com/
Exclusive interview with CEO, original stories and media pack available by request to informbox@isocketsystems.com
iSocket® is a registered Trademark in USA, Canada and The European Union.