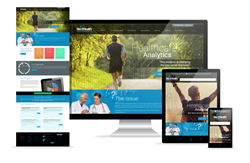 "Power Plant Media really did exceed all of my expectations," said Eric Grossman, CEO of NextHealth Technologies. "In fact, we are looking to work with them again for additional web projects and content."
Colorado Springs, CO (PRWEB) August 05, 2014
"The analytical services we offer are quite complex," said Eric Grossman, CEO of NextHealth Technologies. "So we needed a site that could explain them clearly—in plain English. We also wanted to demonstrate our stability and overall philosophy as a company. The new site does all of that and more."
The new site features an attractive, professional design; a more intuitive page layout and site navigation; and a more clear, comprehensive description of NextHealth's services. The site also adapts to any device, dramatically improving a user's overall experience on a smartphone or tablet. And the site can be easily expanded as NextHealth continues to grow. For these reasons, the site is already getting great feedback internally and from customers who find it visually engaging and content-rich yet user-friendly.
Grossman praised Colorado Springs web design company Power Plant Media for their exceptional design and customer service.
"Everything was easy," he said. "From start to finish, they were creative, productive and flexible." Grossman also appreciated Power Plant Media's willingness and ability to incorporate ideas from the NextHealth team in a new and creative way. "I showed them some sites I liked," he said, "and they gave us something even better."
The end result is a responsive, attractive, user-friendly site that will well represent NextHealth Technologies for years to come. "Power Plant Media really did exceed all of my expectations," said Grossman. "In fact, we are looking to work with them again for additional web projects and content."
About Power Plant Media
Power Plant Media has established a reputation as the leading web design company in Colorado Springs. Their award-winning graphic designer and experienced web presence optimization specialists work with their web developers to create visually appealing websites that are search-friendly, user-friendly, and mobile-friendly.