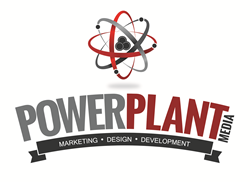 The last 12 months have been challenging, but rewarding. We look forward to continual personal and professional growth. - Brian MacDonald
Colorado Springs, CO (PRWEB) June 12, 2014
Power Plant Media Celebrates One Year Anniversary this Week. The first year for any business is typically exciting and Power Plant Media's was no exception.
Q2 Interactive Media's core production staff joined the new Power Plant Media team. This includes Operations Manager Brian MacDonald, Creative Director David Curtis, and WPO Facilitator Cierra Wilde. One of Q2's founding developers, David Burgess, rejoined the team as the Lead Front End Developer in June of 2013. The demand for additional talent was quickly realized, and in the fall of 2013 Power Plant Media welcomed Website Developer Adria Murphy and WPO Facilitator Patrick Vaz.
The high demand of business from new clients enabled this Colorado Springs website design and development firm to expand. The winter of 2013 produced a few additional changes, including the launch of the new PPMMDD website and the move to their new Downtown Colorado Springs office on South Tejon Street.
Along with new team members, the talent of the Power Plant Media Team has exponentially improved.
Website technology is constantly changing, resulting in regular design theory and front end development methodology reevaluation. This is something the Power Plant Media team has not taken lightly. Previously, all of the websites developed by Q2IM were founded on the Joomla content management system; Power Plant Media now fully embraces the much more user-friendly content management system, WordPress. This change improves Power Plant's ability to service their clients.
Web Presence Optimization continues to be the focal point of the strategy fueling the website projects produced by Power Plant Media. By continuing to be aware of the ever-changing website marketing trends, Power Plant Media sees this as an essential component to the continued growth and success of the web design, web development and search engine optimization strategies they build for clients of all business niches.
Power Plant Media works with new and established businesses. It provides a range of services in addition to custom website design and development; including landing page design, social media management consultation, search engine marketing and optimization and website maintenance and management. Power Plant Media places an emphasis on developing partnerships to ensure a company's online and marketing requirements are met.
For more information about Power Plant Media contact Brian MacDonald, 719-266-2299.