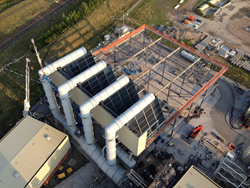 London (PRWEB UK) 26 September 2014
The power station was built in 2000 in Deeside, Flintshire. Having taken the decision that it was no longer viable to keep it open the operator investigated the possibilities to sell or relocate the power station.
Indassol thought it could present a better option – even for a power station of this size – and contacted the operator in July 2012 about the opportunity to find a buyer, then relocate the power station and hand it over in working condition.
The power station was sold in April 2014 to a buyer in Turkey.
With its extensive expertise and meticulous planning processes, Indassol is providing a turnkey solution – from finding the purchaser to liaising with all parties, to dismantling, arranging shipping, rebuilding and recommissioning the power station.
The project is currently at the removal stage. This will require more than 100,000 man-hours, with 6000 tons of equipment being removed from the seven-acre site. It is anticipated that, from start to finish, the project will take just 15-18 months to complete.
Another aspect Indassol prides itself on is its safety-conscious working practices – something the operator is also keen to ensure. In nearly 5000 working days since the site commenced operations, there haven't been any lost time injuries reported. Indassol is determined to ensure that doesn't change during their time on site.
David Hope, Indassol Site Manager, said: "We have a very good working relationship with the operator – we have proved we can deliver what we said we could – and we are there to do the job as effectively as possible."
You can read a longer case study at http://www.indassol.com
About Indassol
Indassol is a London-based industrial asset consultancy firm providing manufacturers worldwide with customised support services in the acquisition, management and resale of machinery and equipment, property and other business assets. As well as their expertise in bringing together buyers and sellers of industrial capital assets through negotiated sales or auctions, they can source individual machines or deliver complete turnkey solutions in the acquisition and relocation of complete used manufacturing plants.