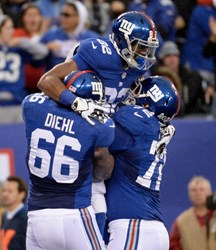 (PRWEB) November 17, 2013
Below is a list of the NFL teams ranked 21-32 in week 11's power rankings. Can any of these teams make their way into the playoffs? Find out and purchase your NFL tickets at http://www.Ticketmonster.com today!
21) Tennessee Titans: 4-5. The Titans have now lost two in a row. As of Thursday night, the Titans lost to the Jaguars by just two points, then the Colts by three. This team has talent, they just need to learn how to use it.
22) Pittsburgh Steelers: 3-6. Although in fourth place in the AFC North, no one has an ultimate hold in this division, and you never know what will happen with this team. They picked up their third win at home this past weekend, and face the Lions Sunday for another possible win.
23) Miami Dolphins: 4-5. The Dolphins are in third place in the AFC East, but only one win behind the Jets. They could rally and surprise us all, despite everything going on of the field down in Florida.
24) Washington Redskins: 3-6. RGIII was not ready to come back from his injury, and that is apparent. He has almost doubled his interceptions from last season, and now they are in fourth place, under the Giants.
25) New York Giants: 3-6. After starting off slow, the Giants have come back to win three in a row. This team is not in last place any more, and has a legitimate chance at first place. They face the Packers on Sunday, and anything can happen there.
26) Buffalo Bills: 3-7. Looks like the Bills are getting comfortable in last place. With only three wins and harder games to come, I'm not sure if they Bills can move up from here. A win against the Jets would be a good start in proving me wrong.
27) Oakland Raiders: 3-6. The Raiders have been dealt a tough schedule all season, but all really hitting the brunt of it now. They still have yet to face the Cowboys, Chiefs, and Broncos one more time.
28) Houston Texans: 2-7. With only two wins, the Texans have still somehow managed third place. The offense on this team is extremely lacking this season, and their defense has been a major disappointment.
29) Atlanta Falcons: 2-7. Wait, what? The Falcons have only won two games? Yes. And like the Texans, have also managed to hold on to third place. Julio Jones is out for the season, yes, but they still could have better than this without him.
30) Minnesota Vikings: 2-7. As if this team hasn't had it rough enough already, in the coming weeks they face the Seahawks, Packers, Bears, Bengals, and Lions. Good luck to the Vikings, they are going to need it.
31) Jacksonville Jaguars: 1-8: The Jaguars got their first, and shocking, win last week against the Titans. They face the Cardinals on Sunday, can they get a winning streak going?
32) Tampa Bay Buccaneers: 1-8. This last place team also got their first win in 2013 so ensure it won't be winless. They beat the Dolphins last week, and have a chance at another win Sunday against the Falcons.
Ticket Monster provides tickets to all NFL games, from Redskins tickets to Giants tickets and more. Find all tickets to your favorite teams at Ticket Monster today!