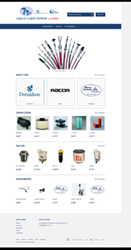 Our customers can now… search and order product and parts from their office computer or a mobile device in the field
Mentor, OH (PRWEB) August 26, 2015
Mentor Ohio-based Great Lakes Power Products, Inc.,(http://www.GLPower.com), is happy to announce the launch of its new e-store program for customers needing to search and purchase off-highway power transmission, drive train and related parts and accessories 24/7 via computer, tablet or smart phone.
"Our customers can now and in the coming months access Great Lakes Power's extensive inventory of industry leading manufacturers we represent … search and order product and parts from their office computer or a mobile device in the field, arrange delivery and payment 24/7" explained Stephen Allen, Great Lakes Power's Vice President Sales. "Many of our customers look for quick and easy access to buying parts when questions of availability and timely delivery are of the utmost importance" Allen said.
"The development of a responsive e-store enviornment has evolved for us over the last several months" said Rick Pennza, President and CEO. "We launched our site with a few of our more traditional distributor product lines .and are adding the remainder of our line card suppliers over the next upcoming months" Pennza said.
The Great Lakes Power group of companies represents leading global off-highway power transmission, drivetrain and other related industrial component manufacturers such as Twin Disc, Dana Spicer, Clark-Hurth, Funk Manufacturing, Durst, Cotta Transmission, TDI, Axletech, Carrarro, Wichita Clutch, Kongsberg Automotive, Interlube, Donaldson, Racor and other leading off-highway power transmission equipment and parts manufacturers. The Company's success lies in its ability to bring together the strengths of each organization to competently and professionally solve customer's power transmission and drivetrain application problems. Great Lakes Power adds value for it's customers by providing the best power transmission and drivetrain products, parts and services available in the industry.