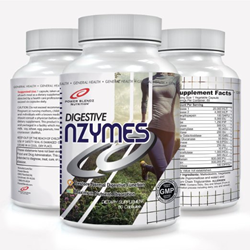 After receiving a high volume of orders & positive reviews in a short time, we feel that customers can appreciate the innovative formula utilized in the products here at Power Blendz Nutrition.
Cincinnati, Ohio (PRWEB) June 02, 2016
Power Blendz Nutrition, an innovator of high quality health and nutrition supplements for over 20 years, is excited to announce their release of Digestive nZYMES, an all-new complete digestive enzymes supplement to aid in proper digestion, absorption of nutrients & also ideal for individuals suffering from irritable bowel syndrome.
After years of research, analysis and development, Digestive nZYMES by Power Blendz Nutrition is now available to the public for the very first time.
Throughout the pre-launch trials of Digestive nZYMES, hundreds of satisfied consumers have reported an improvement in their overall feeling of well-being, reduced bloating, constipation & stomach acid, along with weight-loss. Positive Reviews continue to be the trend during the short duration that Digestive nZYMES has been available to order through Amazon.
Digestive nZYMES features an innovative blend of clinically tested ingredients, which include: Lipase, Amylase, Medium Chain Triglycerides, along with Alpha Galactosidase, Beta Glucanase, Bromelain, Cellulase, Glucomylase, Hemicellulase, Invertase, Lactase, Malt Diastase, Papain, Pectinase, Pytase, Protease 1, Protease 2, Xylanase and Peptidase; providing you with one of the most complete digestive enzyme products available on the market.
The executive team at Power Blendz Nutrition have stated the following; "The modern diet does not provide the proper amount of enzymes to aid in digestion and immune activity. Our focus was to develop one of the most complete digestive enzyme products on the market, which led to the birth of Digestive nZYMES. The formula provides the benefit from a multi-enzyme product including proteases (which break down proteins), lipases (which break down fats) and carbohydrases (such as amylase, which break down carbohydrates. Power Blendz Digestive nZYMES also contain a variety of plant sourced enzymes that are the most stable of all the enzymes, survive digestion well and have a broad spectrum of action".
Digestive nZYMES Product Highlights:

Features a formula that has been proven over probiotics with the aid in digestion, proper absorption of nutrients, along with treating irritable bowel syndrome.
Contains Enzymes that are essential to boosting a healthy immune system, helping your body properly break down & absorb fats, carbohydrates, protein and fats; meanwhile, removing toxins.
Provides individuals with relief of (IBS) irritable bowel syndrome; gas, bloating, heart burn, along with stomach constipation & abdominal pain from foods with gluten and/or lactose.
FDA Approved Ingredients, Non-GMO, serrapeptase free enzymes, promoting natural PH Levels with lactase and protease.
Digestive nZYMES is backed by a 30 Day Money Back Guarantee.
Now that Digestive nZYMES is officially available to purchase, the Staff at Power Blendz Nutrition have been working hard to quickly process, package and ship all orders, along with providing 1st Class Customer Service.
You can read customer reviews and now order Digestive nZYMES through the Power Blendz Nutrition Amazon Store.
About Power Blendz Nutrition:
With 20 years of experience producing high quality supplements for the fitness industry Power Blendz Nutrition is excited to launch its new lifestyle line of products.
Formulations created by the experts using these same high quality ingredients are now available to active individuals everywhere to help fuel their demanding lifestyle and achieve results.