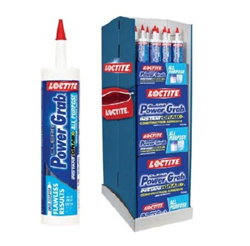 I ordered Loctite Power Grab All-Purpose Adhesive from TheHardWareCity.com to help repair a small ceramic statue that broke apart badly. I'm so happy with how well it worked, and the great service from the online shop. Five stars and fully recommended
DALLAS, TX (PRWEB) February 09, 2015
There's almost too many uses to list of a super adhesive, a popular category of hardware product that has many brands vying for the number one spot. Recently, TheHardWareCity.com, a leading online hardware goods shop known for their excellent selection and prices, announced they were carrying Loctite Power Grab All-Purpose Adhesive. A adhesive that many users are describing as having the best combination of power, usability and price on the market today. The company is already reporting excellent feedback and remarkable sales on the new product in the short amount of times its has been featured in their store.
"We really feel passionate about Loctite Power Grab and see it exceeding our customer's expectations," commented a spokesperson from Hardware City. "Of course, we've seen great things from other products in the Loctite line, and we're looking forward to not only seeing how well Power Grab performs, but also continuing to to see the great feedback from our valued customers."
According to the company, among adhesive products Loctite Power Grab All-Purpose Adhesive is truly exceptional. Designed to work even the worst conditions, the adhesive gel can withstand and resist impact, shock, extreme weather and much, much more. There's almost no limits to what it can bond to including paper, metal, wood and nearly any other material imaginable. The gel is also very simple and easy to use, with a reasonable amount of time existing between applying it and the gel setting. This makes lining up materials properly much easier for users.
Early customers have responded to the product with enthusiasm.
Emily G., from Boston, recently said, "I ordered Loctite Power Grab All-Purpose Adhesive from TheHardWareCity.com to help repair a small ceramic statue that broke apart badly. I'm so happy with how well it worked, and the great service from the online shop. Five stars and fully recommended."
About TheHardwareCity.com:
TheHardwareCity.com is a large online hardware store, which supplies the latest in home improvement tools and products. Consistently expanding its catalog since its founding in 2007, the online store is the place to order needed items for any project. Without sacrificing quality or service, many tools and supplies are offered at a price below retail. To view the company's large inventory in every home improvement department including paint and paint sundries, electrical, heating supplies and cooling, hand tools, plumbing, and more, visit http://www.thehardwarecity.com