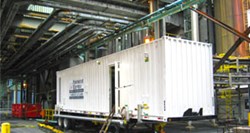 "The WEEC is another opportunity for Powerhouse to showcase its unique and highly sought after products," Matt Stohner, President
Delanco, NJ (PRWEB) September 19, 2013
Powerhouse Boiler Equipment, the leading boiler rental company in the Mid-Atlantic United States, will be showcasing their portable boiler rooms and services. The WEEC is well-recognized as the most important energy event of national and international scope for professionals in all areas of the energy field.
Energy leaders from all over the world will gather at the Washington DC Convention Center for two days starting September 25, 2013. This is the place to be to learn about the present and future state of energy in America. Arnold Schwarzenegger (former governor of California), and William Colton (V.P. of Exxon Mobil), are just two of the many scheduled speakers. Alternative energies and the latest rules and regulations will be some of the topics along with various energy related displays.
Powerhouse Boiler Equipment will be displaying their partnership with Tate Engineering Services, a company that provides full service for mechanical systems and is an exclusive rental partner for Powerhouse. "The WEEC is another opportunity for Powerhouse to showcase its unique and highly sought after products. Together with Tate Engineering, we offer industrial and commerical customers the best boiler products available," stated Matthew Stohner, President.
The WEEC conference is the energy platform for America with a slate of speakers and an abundance of industry leaders under one roof. Powerhouse Boiler Equipment will be at booth #429 displaying their portable boiler room, which come in 15 different sizes and are available for rental. Powerhouse stands by their motto - Boilers are our Busines. For more information, please visit http://www.powerhouse.com/boiler-blog/powerhouse-to-exhibit-boiler-services-at-world-energy-engineering-congress-convention/.