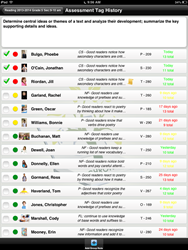 I love that you can incorporate pictures/audio/video...Genius.
Mahwah, NJ (PRWEB) September 17, 2013
Chronicle is no ordinary note-taking or conferring app. Utilizing the multi-media functionalities of the iOS platform, Chronicle surpasses traditional anecdotal notes. Whether taking pictures of student work, recording a student's reading fluency, or videoing a group's presentation, Chronicle's user-friendly interface makes acquiring these forms of student data a snap. Chronicle makes it easy to display, playback and share detailed student assessment data. A tap of the screen gives feedback to parents, students and administrators: this helps to guide instructional next steps, set student goals and boost student achievement.
A teacher from Oregon clearly sees the benefits, stating: "I am looking forward to using this app with my students and sharing data with parents at conferences. With the photo, video, audio it can make the experience so much more of "show not tell" which is exactly what we expect of the students."
Similarly, a French teacher in Ontario is excited to finally have access to such a versatile app, saying: "I love that you can incorporate pictures/audio/video... Genius. I was looking for that feature in an app I used last year!"
Furthermore, any text, photo, audio, or video note can be designated as an artifact. An artifact is any note that the teacher would like to recognize as a benchmark achievement, milestone, or some other indicator of student progress. In light of many of today's new teacher evaluation models, this feature equips teachers with a painless method of demonstrating student growth. Gone are the days of running to the copy machine and organizing hard copies in student folders to be stored in a file cabinet, as Chronicle automatically stores the artifacts in chronological order and makes them accessible with just the tap of a button.
Teeming with additionally rich features, Chronicle's unique "Traffic Light" design enables teachers to quickly assess understanding, achievement, or progress by tapping the corresponding traffic light signal next to each student, assigning the color red, yellow, or green. Teachers then have the ability to attach an assessment tag (such as a learning standard or a learning/social behavior) to these colors. Once completed, the colors are stored and categorized, helping teachers track students and their instructional or behavioral needs.
Chronicle also provides an integrated and multifaceted gradebook packed with many valuable features, such as easily accessible comments, quick calculation of class average, and multi-dimensional reporting. And even summative assessments, such as a quiz or a test, can be used formatively. This is why Chronicle's gradebook provides enhanced color-coded tracking of student progress, helping to better inform teachers of individual student needs, as well as the class as a whole.
Chronicle additionally accounts for learning standards, incorporating the K-12 Common Core Math and English Language Arts Standards, which simply requires activation, making them a cinch to incorporate into a teacher's daily routine. Chronicle, however, was intentionally designed to support educational standards in any school, district, or state, not only those in which the Common Core Standards apply. Powerhouse Education welcomes inquiries to discuss how local standards can be incorporated.
Chronicle offers many other rich and time-saving features, all of which empower teachers to instruct, manage, and communicate more efficiently and more effectively in the classroom. Other useful features – such as the ability to import data from a previous year's teacher or the ability to save and restore student data via Dropbox or iCloud – are also found within its practical design.
Although there is limited functionality and data capability in its Lite Version, the user can try it and get a good idea of how the full-version, priced at $19.99, works.
Powerhouse Education, a young company dedicated to advocating best practices in the classroom, was founded by husband and wife teaching duo Andy and Ellen Raupp. Understanding the increasing demands and expectations placed on teachers, Powerhouse Education was formed with the vision of providing teachers with the tools to effectively and more easily implement educational best practices, knowing that empowered teachers will yield stronger, more successful students.
For more information about Chronicle, please check out the website, http://www.powerhouseed.com. Be sure to use the YouTube link on the website to see the trailer video, demo overview, and many helpful tutorials.