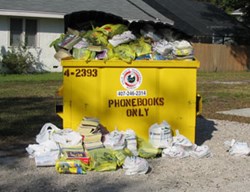 YPGG believes that the Yext PowerListings Network, making up the webs leading local listing portals, will help eliminate the need for print directories by bringing accurate, always updated and fresh local data to the world
East Northport, NY (PRWEB) December 19, 2013
YellowPagesGoesGreen.org, a business directory website at the forefront of the environmentally-conscious "Green" movement, is proud to announce that it has become part of the vast Yext PowerListing Network for 2014.
"Working toward drastically reducing the number of printed telephone directories intruding upon our lives and destroying our natural resources is at the core of our national eco-friendly movement," said President Michael Keegan. "Our team at YPGG believes that the entire Yext PowerListing Network making up the webs leading local listing portals will help eliminate the need for print directories by bringing accurate, always updating and fresh local data to the world and we're ecstatic to be a part of it."
YellowPagesGoesGreen.org is a cutting-edge website and alternative to print directories that delivers over 28.5 million up-to-the-minute listings of businesses throughout the United States; users can quickly, easily, and conveniently access the information they need to find the services and listings they want. In addition, YellowPagesGoesGreen.org now brings "people data" with its combination of WhitePagesGoesGreen.org, adding over 200,000,000 million residential telephone numbers in the United States.
"YellowPagesGoesGreen.org offers users a powerful and green alternative to traditional residential print directories; instead of a wasteful, cumbersome, annually-produced, paper-based phone books that are often rendered out-of-date weeks or even days after it is published, users can instead access a cutting-edge, daily-updated, online residential directory easily and conveniently accessed through any web-enabled device while at the same time addressing the ongoing problem of pollution plaguing our planet," Keegan said.
About Yellow Pages Directory Inc.,
YellowPagesGoesGreen.org and PaperlessPetition.org offer an environmentally-friendly Web-based alternative to paper telephone directories while providing a simple and convenient mechanism for customers to opt out from the receipt of printed yellow books. Both sites have been instrumental in promoting opt-out awareness across the United States over the past several years, and allowing users to reduce their own environmental footprints in the process. Yellow Pages Directory Inc. has also taken steps to reduce its own impact on the environment through the use of the most up-to-date and energy-efficient web-hosting services available.
For more information please visit http://www.YellowPagesGoesGreen.org