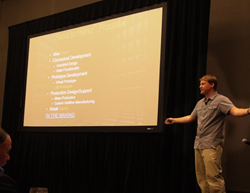 "Weapons to wheelchairs and dog toys to space exploration, all industries could use 3D printing technology." David Yakos
Nashville, Tennessee (PRWEB) October 16, 2014
Nearly 50 professionals from across the mid-state attended "The Power of 3D Printing", an interactive 3D printing exhibition and guest lecture at the Omni Hotel, sponsored by the RJ Young Company. The event showcased 3D Systems printing technology and informed a wide-range of professionals, from architects to advertising agencies, of the competitive advantages that 3D printing offers and featured a lunch-time presentation by award-winning product designer David Yakos.
"Weapons to wheelchairs and dog toys to space exploration, all industries could use 3D printing technology," Yakos said as he addressed the audience. He explained how 3D printing in product development allows you to "fail fast and fail cheap" to get more desirable products to market faster.
Developing over 130 products last year with his firm, Yakos presented an overview of the 3D printing industry and case studies that demonstrated the power of 3D Printing. Case studies included 3D printing applied to rapid prototyping for nationally recognized brands, including a prototype that won 2013 Popular Mechanics Prototype of the Year.
"Opportunities for 3D printing to positively impact organizations are endless, and we are excited so many professionals expanded their knowledge and were inspired by the event," said Hunter McCarty, RJ Young chief operating officer. "Our 60 years of printing innovation and presence across the southeast, combined with 3D Systems deep portfolio of hardware and software products, will allow us to help organizations thoughtfully enter the new era of design and manufacturing."
"The Power of 3D Printing" event showcased various categories of 3D printing and 3D Systems products, including MultiJet, ColorJet, SLA and SLS 3D printing technologies as well as personal 3D printers and 3D scanning accessories. Each exhibit highlighted industry applications for each category and provided an RJ Young 3D printing specialist to discuss each technology.
About 3D Systems
3D Systems is pioneering 3D printing for everyone. 3DS provides the most advanced and comprehensive 3D design-to-manufacturing solutions including 3D printers, print materials and cloud sourced custom parts. Its powerful digital thread empowers professionals and consumers everywhere to bring their ideas to life in material choices including plastics, metals, ceramics and edibles. 3DS' leading health care solutions include end-to-end simulation, training and integrated 3D planning and printing for personalized surgery and patient specific medical and dental devices. Its democratized 3D design and inspection products embody the latest perceptual, capture and touch technology. Its products and services replace and complement traditional methods with improved results and reduced time to outcomes. These solutions are used to rapidly design, create, communicate, plan, guide, prototype or produce functional parts, devices and assemblies, empowering customers to manufacture the future.
About RJ Young
RJ Young is the largest independent office equipment and business solutions provider in the Southeast. They offer the latest workflow solutions, multifunctional printers, specialty printers and technology to power productivity in your office. RJ Young has been in business for nearly 60 years. They are headquartered in Nashville, Tennessee and have over 500 employees throughout seven states and 22 locations. For RJ Young's complete range of products and services, visit http://www.RJYoung.com. You can also like them on Facebook, follow on Twitter or read about current trends and technology on their blog.