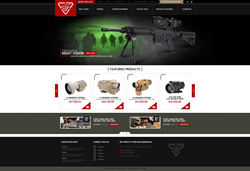 The team at Power Plant was very easy to work with. They hit all their deadlines and made the process easy. It's hard to find everything under one roof, but they can do it all. - Hunter Hamilton, owner of MODArmory
Colorado Springs, CO (PRWEB) June 10, 2014
Based in Colorado Springs, CO., MODArmory was established in 2010, and sells products from more than 70 manufacturers. MODArmory conducts courses for law enforcement personnel, and sponsors events for the public through its Night Vision Academy.
MODArmory had previously relied on what owner Hunter Hamilton best described as, a homemade website that was not user-friendly for customers or staff. In fact, Hamilton noted, MODArmory received numerous customer complaints about the difficulty of navigating the older site. That was due to the reliance on an outdated version of a semi-popular e-commerce platform known as Zen Cart, which severely limits design options.
Hamilton and MODArmory turned to Power Plant Media.
Power Plant Media helped MODArmory identify its needs to better serve its customers to highlight its products and services. Toward that end, the site was redesigned using a well-known e-commerce solution, WooCommerce; which runs on the WordPress platform. Since its debut in 2011, WooCommerce has received high praise in the industry for its functionality and ease of use.
The new MODArmory website, at http://www.modarmory.com, features a full online store, modern website design, easy website navigation, and a professional web presence – all completely mobile and tablet friendly. "Everything is going online. Even for a company like ours, a strong web presence streamlines that process for everyone: customers, vendors, and employees," Hamilton said. "The team at Power Plant was very easy to work with. They hit all their deadlines and made the process easy. It's hard to find everything under one roof, but they can do it all."
Power Plant Media works with new and established businesses. It provides a range of services in addition to custom website design and development; including landing page design, website maintenance and management, social media management consultation, search engine marketing and optimization. Power Plant Media places an emphasis on developing partnerships to ensure a company's online and marketing requirements are met.
For more information about MODArmory or Power Plant Media contact Brian MacDonald, 719-266-2299.