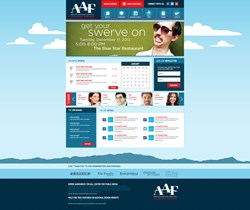 Power Plant Media has made sure that our new site is easy to use for our Board on the back end and for our membership. Our new website is intuitive and exactly what we need as an Advertising organization. - Erica Rockenstein, AAFCOS President
Colorado Springs, CO (PRWEB) February 13, 2014
Prior to this new release, the AAFCOS website had several issues with membership and event management, making it rather difficult to purchase tickets to events and renew Ad Fed memberships online.
"Being a marketing and advertising organization our website is one of the first spots our potential members go to check out and learn about the American Advertising Federation. Before Power Plant stepped in, our website was full of issues. It was built on a corrupt CMS that made it difficult for our members to interact with us, and even pay us! We knew immediately that we had a lot to fix." – Erica Rockenstein, 2013 – 2014 AAF Colorado Springs President
Power Plant Media took these issues into consideration and proposed a redesign and rebuild on a new platform to make using the site as easy as possible. The process would also rollout additional functionality such as complex ticketing and event management systems, which allows different membership level pricing as well as a directory of area designers, developers, advertisers, while all focusing on increasing Ad Fed's roll and influence in the community.
"Power Plant made the transition easy for us. We launched our new site at one of the biggest events of the year with no issues. I'm very excited about the year to come. Power Plant has made sure that our new site is easy to use for our Board on the back end and for our membership. Our new website is intuitive and exactly what we need as an Advertising organization." - Erica Rockenstein, 2013 – 2014 AAF Colorado Springs President
Both sides of this project are overall extremely pleased with the outcome and are excited to see where this new product takes the American Advertising Federation of Colorado Springs and keep track on how well it converts moving forward. Congratulations to the AAFCOS and their new website.