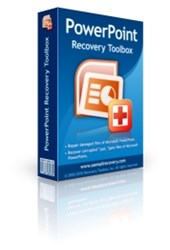 the fastest PowerPoint recovery tool on today's market.
Sacramento, CA (PRWEB) August 20, 2013
Recovery Toolbox, the leading expert in the field of data recovery and the producer or many popular data recovery tools, is pleased to announce the release of PowerPoint Recovery Toolbox, the newest member of the company's portfolio. http://www.oemailrecovery.com/powerpoint_recovery.html
This PowerPoint recovery solution was initially designed and developed for regular users with no deep understanding of data recovery principles and with no past experience of restoring data.
The intuitive interface of PowerPoint Recovery toolbox uses a multi-step wizard that guides the user through the entire procedure and makes a human mistake virtually impossible. The newest version of the program features a considerably improved recovery engine with multi-pass file processing that ensures top recovery efficiency even in cases with serious data corruption.
http://www.oemailrecovery.com/powerpoint_recovery.html
PowerPoint Recovery Toolbox supports PPT and PPTX files of all major versions starting from PowerPoint 97 and restores the entire contents of damaged files, including slide properties, text, formatting, images, embedded objects and charts. http://www.oemailrecovery.com/howuse_powerpoint_recovery.html
Depending on the version of the damaged file, images and other elements may be saved differently – either directly to the reconstructed presentation or in a separate recovery folder on the user's hard drive.
"The release of the updated version of PowerPoint Recovery Toolbox is yet another step towards updating our entire product line with the new engine that we have been working for quite some time now," explains Victor Bobrov, Head of Development at Recovery Toolbox. "Presentations are now restored faster and with greater accuracy, which means that our solution recovers presentations that other tools simply can't handle."
Download PowerPoint recovery solution today from official site:http://www.oemailrecovery.com/