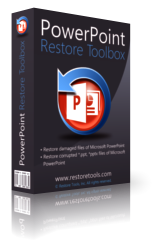 PowerPoint Restore Toolbox, one the best PowerPoint restore tools on today's market.
Sacramento, CA (PRWEB) December 23, 2013
Restore Tools, a software development company specializing in the creation of powerful, yet compact, intuitive and affordable data recovery solutions for a broad range of mainstream applications, announces the release of the all-new PowerPoint Restore Toolbox, now based on an entirely new core. http://www.powerpoint.restoretools.com/
The updated engine uses a set of intelligent file analysis algorithms that ensure the highest possible speed and efficiency of recovery even in cases of severe data corruption. Since the program mostly targets non-professionals looking for a quick and easy way of recovering PowerPoint presentations, its interface has been minimized to allow users with zero experience to complete PPTX recovery in seconds. http://www.restoretools.com/products.html
It is based on the concept of a step-by-step wizard that takes the users through the entire data recovery procedure and requires a bare minimum of user input. PowerPoint Restore Toolbox restores all types of content typically found in PowerPoint presentation files – text, images, charts, audio files and so forth. For PowerPoint 97-2003, images and media are saved to a separate folder on the hard drive. http://www.restoretools.com/
For later versions of PowerPoint, images are also added to presentations, and charts are pasted as bitmaps. However, chart data is also available for editing in the Excel format. The program requires a copy of PowerPoint to be installed on the user's system at the time of recovery.
"We've got some great news for those users who often have to deal with corrupted PowerPoint presentations," said Lead Developer at Restore Tools. "The newest version of PowerPoint Restore Toolbox is by far the fastest and most convenient PowerPoint restore software on the market – and it is finally able to open files that none of its competitors can!"
The demo version of PowerPoint Restore Toolbox is available for download on the official site of the company. http://www.restoretools.com/download.html