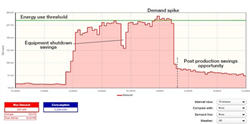 "The program's success rests on Power TakeOff's ability to collect the right data, and also present it in ways that are immediately useful to customers."
Denver, Colorado (PRWEB) June 01, 2015
Center for Energy and Environment (CEE), a leader in energy-efficiency programs built for business, and Power TakeOff, a Denver, CO based leading provider of business customer engagement software for utilities, today announced successful first-year results in a program that helps small industrial businesses identify energy waste and optimize production.
Energy Intelligence for Industry provides real-time, pragmatic energy feedback from CEE's engineers to help industries in the Minneapolis area identify energy waste and improve energy management. The program is offered free-of-charge to small or mid-sized industrial customers in Xcel Energy's Minnesota service territory. It is sponsored by Xcel Energy, shedding light on the potential benefits of providing businesses with real-time operational energy-use data and feedback.
"We launched our Energy Intelligence program in 2014, and nearly every business we've served has found untapped savings opportunities," says CEE project manager Kevin Bengtson. "Within our high-tech monitoring, the interface for clients is pointedly user-friendly. You can literally watch your facility's energy use rise and fall — day by day, and minute by minute — and then work with us to trim the fat and make the most of your energy spending."
The first year's progress has been notable:

To date, the Energy Intelligence pilot program has served 49 companies.
The program has helped customers identify an average of 8% annual bills savings.
Nearly half the savings have resulted from low-cost/no-cost improvements with immediate payback.
"And we're looking for more businesses to help," adds Bengtson. The pilot program runs through 2016, with a goal to serve 106 customers between now and then. Qualifying for the free program is easy: If your business purchases electricity from Xcel and your monthly bill is under $10,000, call Kevin Bengtson at 612-335-2651 to get started.
According to Energy.gov, 30% of energy used by buildings is wasted. Leveraged by CEE, Power TakeOff's industry leading energy analytics and reporting platform slices through big data to zero in on practical opportunities to improve energy management, and reduce utility costs and environmental impact for bottom-line savings for Minnesota businesses. Electricity usage is monitored and displayed in one-minute intervals on a web-based dashboard, which helps businesses better understand their energy profile relative to their operational drivers for energy usage highs and lows over time.
Power TakeOff's Peter Widmer explains, "The program's success rests on our systems' ability to collect the right data, and also present it in ways that are immediately useful to customers. Using affordable, real-time technology, our emphasis on helping companies cut waste and work smarter makes this program a must for Minnesota's small industrial businesses." 
ABOUT ENERGY INTELLIGENCE FOR INDUSTRY
In partnership with Power TakeOff, CEE provides real-time energy feedback to minimize customers' energy use and save money. Xcel Energy and the Minnesota Natural Resources Division cover all costs for monitoring and reporting. The program is offered free-of-charge to small or mid-sized industrial customers in Xcel Energy's Minnesota service territory with less than 500 KW of demand. Acceptance into the program is subject to approval from Xcel Energy, but clients typically pay $5,000-$25,000 per month for electricity and carry a peak electric demand of 600 KW. Typical customer engagement lasts 4-8 months.
ABOUT POWER TAKEOFF
Power TakeOff is a leading interval data monitoring, analytics, and reporting provider for utilities, energy consultants, and Fortune 1000 companies. Power TakeOff's cloud-based Software-as-a-Service platform captures energy and key performance indicator (KPI) data and provides valuable insights through user-friendly dashboards, alerts, and reports. This empowers users with the tools to make verifiable, energy and cost saving measures to the whole building, processes lines, and equipment. Utility and energy consultant partners choose Power TakeOff as a tool to build and strengthen relationships with customers, increase involvement in energy efficiency opportunities, and monitor and verify savings through Power TakeOff's industry-leading normalization tools. For more information, visit PowerTakeOff.com
ABOUT CENTER FOR ENERGY AND ENVIRONMENT
The Center for Energy and Environment (CEE) is a nonprofit organization that promotes energy efficiency to strengthen the economy while improving the environment. CEE conducts research and develops programs so that businesses operate more efficiently and profitably; government agencies and nonprofits spend less on facilities and functions; utilities achieve their energy-efficiency goals at least-cost; and households save money and improve comfort. CEE focuses on energy efficiency because it is the lowest-cost energy resource available to utility companies and because it empowers Minnesotans to control their own energy bills. Get started at MNCEE.org/EnergyIntelligence.