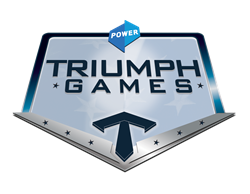 "Veterans service to their country makes the American Dream possible for everyone, and we believe we have a responsibility and an opportunity to make that dream a reality for millennial veterans returning home." said Asher Raphael, Co-CEO
Philadelphia, PA (PRWEB) June 20, 2016
OurVetSuccess today announced that Power Home Remodeling will serve as the 2016 Triumph Games title sponsor. Power Home Remodeling, the nation's second largest exterior home remodeler, takes the title position as part of their ongoing commitment to the men and women who proudly serve or served our country. This commitment is demonstrated through their Power Veterans Initiative — a one of its kind program that provides hundreds of job opportunities for military veterans within the company, in their communities with partnerships to renovate American Legion Posts, and has impact throughout the country with a focus to change the national veteran narrative from one of distress to one of pride.
"Veterans service to their country makes the American Dream possible for everyone, and we believe we have a responsibility and an opportunity to make that dream a reality for millennial veterans returning home. The Triumph Games partnership allows us to launch the Power Veterans Initiative on a national platform. Veterans' team-first mentality, leadership skills and commitment to a shared mission make them extraordinary additions to our leadership. We are eager to attract more veterans to the Power culture through the Power Triumph Games national media platform, and challenge all viewers to serve those who have served," said Asher Raphael, Power's Co-Chief Executive Officer.
The Power Triumph Games, an OurVetSuccess television production, will take place at the prestigious U.S. Military Academy at West Point, June 28-July 2, 2016. Ten military veteran elite athletes will face a variety of unfamiliar challenges that test their physical and mental capabilities that serve to highlight adaptability, a courageous approach to the unknown, and an inspirational desire to win. The television program will showcase the personal stories of success and triumph, and will air on CBS Sports Network and CBS Sports in November 2016 in honor of Veterans Day.
"We are honored to welcome Power Home Remodeling as our 2016 Title Sponsor," said Mary L. Hagy, Triumph Games Executive Producer and CEO of OurVetSuccess. "Power's Veterans Initiative attracts America's best veteran talent into its culture of character, camaraderie and higher purpose. Our athletes have demonstrated their triumphant spirit with the resilience to adapt, the willingness to work as a team to overcome, and now, the commitment to inspire others using the highly visible medium of television. With a shared mission to change the national narrative around military veterans from one of charity and sympathy, to one of pride and honor, the Power Home Remodeling and Triumph Games partnership is perfectly aligned. We could not ask for a better title of this year's event — the Power Triumph Games."
Stay tuned to the Triumph Games Facebook page, and http://www.ourvetsuccess.com for updates on the 2016 Triumph Games.
About OurVetSuccess®
OurVetSuccess® is dedicated to increasing positive public awareness of successful military veterans. By working together with businesses and leveraging the media to share success stories, OurVetSuccess is changing the public perception of the US veteran population to one of not only honor, but also leadership and success.
About Power Home Remodeling Group
Established in 1992, Power Home Remodeling is the nation's second largest exterior home remodeler with more than 1,700 employees, 275,000 customers and forecasting $425 million in revenue by the end of 2016. Headquartered in Chester, Pa., Power provides energy-saving and environmentally friendly remodeling solutions to residents across its operating territories, including Connecticut, Delaware, Georgia, Indiana, Illinois, Maryland, Massachusetts, Michigan, New Hampshire, New Jersey, New York, Pennsylvania, Texas, Rhode Island and Virginia. A six–time Inc. 5000 company nationally recognized for its unique workplace culture, Power was recently named one of the Best 100 Companies to Work For by Fortune, No. 1 Best Place to Work for Millennials by Fortune, No. 15 out of 50 Best Places to Work by Glassdoor, and No 1. Best Workplace for Camaraderie by Fortune. Power is also recognized as a Master Elite contractor by GAF, Inc., a Green Product Award winner by Door & Window Manufacturer Magazine and a home improvement leader by its two-time "Dealer of the Year" award from Window and Door Magazine.
For more information, please visit PowerHRG.com or WorkatPower.com. You can also follow the company on Twitter @PowerHRG, Facebook at facebook.com/PowerHRG and Instagram at instagram.com/PowerHRG.
###