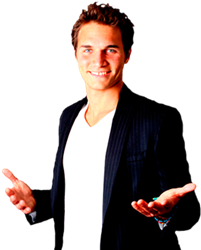 Join us in one of the most meaningful wealth transfers in the history of humanity, the shift from dirty to clean energy.
San Diego, California (PRWEB) August 26, 2015
Internet Visionary and Creator of "Futuristic Marketing", Jonathan Budd announced his new position as CEO of Powur PBC, a network marketing company focused on solar power and renewable resources set to launch October 17, 2015.
In a radio interview today, Jonathan Budd said Powur PBC has created a new mobile app that in partnership with the nation's largest provider of solar power systems (Solar City) will allow consumers to start creating their own clean energy and building their own clean energy "Powur Grids". Budd says Powur Distributors can invite others to join the cause by simply having them download the app and becoming renewable resource advocates.
Pointing to companies like Airbnb, Uber and Tesla, Budd said, "The biggest opportunities over the past decade have come from companies that have come in and disrupted the current business model and decentralized operations. The current power grid and the public utilities that operate them are ripe to be challenged." He also said in addition to the new "Personal Powur Gird" mobile app the company would soon be offering other products and services related to renewable energy and reducing ones carbon footprint.
In the hour long interview Budd also shared Powur's commitment charity donating 5% of net revenue to game changing charities like Pachamama Alliance and others. Solar City also donates a solar power system and battery to a community or school in need for every megawatt of power they sell through the Give Power Foundation - a charity founded and funded by Solar City.
The interview aired on "Up Close with Chris Tinney" and can be heard at ChrisTinney.com, VoiceAmerica, iTunes and TuneIn. Powur PBC will host a public event October 17, 2015 in San Diego, California to officially launch the new company.