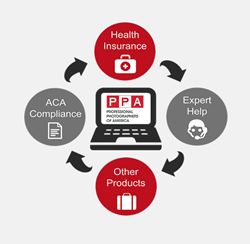 The new exchange is an easy way for photographers to search for and purchase their healthcare for 2016.
Atlanta, GA (PRWEB) December 01, 2015
It is that time again: open enrollment period for all healthcare coverage under the Affordable Care Act (ACA). Professional Photographers of America knows that for many independent and self-employed artists, finding and choosing a health plan can be stressful. Purchasing and maintaining the right healthcare plan is a vital component for any freelancer's peace-of-mind, however, rates are climbing and the government exchange website has a tendency to go from helpful to hindrance at the strike of a key.
PPA is proud to announce a way to reduce some of the stress with a new Healthcare Exchange provided through Lighthouse Benefit Resources. This exchange was created specifically for photographers who are members of PPA, allowing them to purchase coverage without an employer. Private insurance exchanges are an alternative to joining the federal (or a state) ACA Marketplace, providing one easy spot to compare plans and simplifying the sometimes daunting task of shopping for care. Private exchanges generally provide better efficiency for the consumer and most freelance photographers qualify for government subsidies, making coverage even more affordable. Primary healthcare is only one of the plans offered and PPA's members can also choose plans including dental, vision, life insurance and pet insurance solutions, among others.
PPA and Lighthouse Benefit Resources are ready to enroll with a fast and easy website (PPAexchange.com) that will get PPA photographers all set to enjoy benefits including:

Prescription Drug Discount Card-accepted at top pharmacies nationwide, no annual limits, no claims to file, no pre-existing condition exclusions
Online Health Management Platform-tools, information and devices to help maintain a healthy lifestyle
Personal Policy Advocacy –call and speak to a personal advisor anytime for support
The PPA Exchange went live on November 11, 2015 and photographers who belong to PPA are already enrolling. Kristen Hartman, Director of Member Value and Experience, explains, "The new exchange is an easy way for members to search for and purchase their healthcare for 2016. We've been so excited to announce this new member benefit and are certain it will make our members' healthcare decisions easier this year and beyond." By offering this new membership benefit, PPA is helping streamline the process of choosing affordable healthcare and further demonstrating its commitment to helping professional photographers Be More.
About PPA
Professional Photographers of America (PPA) is the largest international nonprofit association created by professional photographers, for professional photographers. Almost as long-lived as photography itself, PPA's roots date back to 1869. It assists more than 28,500 members through protection, education and resources for their continued success. See how PPA helps photographers be more at PPA.com.