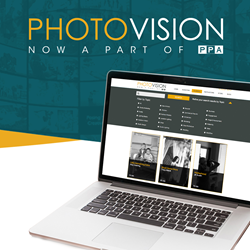 "PhotoVision gives photographers such a wealth of information...It strengthens [them] and helps them grow in their profession."
Atlanta, Georgia (PRWEB) December 17, 2015
Good news for photographers looking to invest in their professional development this holiday season! For a limited time, Professional Photographers of America (PPA) is offering non-PPA members access to its online educational video subscription service, PhotoVision, at 50% off.
"This is huge for photographers who aren't PPA members," said David Trust, PPA CEO. "There's already a lot of incentives for non-members to take advantage of one of the most comprehensive educational resources in our industry. This sale provides even more."
It's not hard to see the added incentive Trust is talking about. Normally, non-PPA members pay $19.99 per month to access PhotoVision's more than 800 training videos, or $199.99 for an annual subscription. However, for a limited time, non-members can stream 800+ videos for $9.99 per month or for even bigger savings, subscribe for the entire year with a one-time payment of $99.99.
"Not bad," says PPA director of education Angela Kurkian, "when it comes to full access to a library of cinema-quality HD videos featuring well-known, seasoned, and successful photographers offering up tricks of the trade, best practices and fresh techniques."
"PhotoVision gives photographers such a wealth of information," said Kurkian. "It's real-world knowledge presented by photographers who've proven themselves and are running profitable businesses. It strengthens photographers and helps them grow in their profession. PhotoVision is an amazing resource, and at 50% off, now is the perfect time to take advantage of it."
PhotoVision is just one of the many educational offerings provided by PPA. Members also have full access to over 350 online courses covering everything from creative techniques to technical training and running a top-notch photography business. Through PPA's Degree and Certification programs, members can also earn their photography degrees and become Certified Professional Photographers (CPPs). The entire toolbox provided to members can be viewed at PPA.com/PPAedu.
Photographers wanting to learn more about PhotoVision and what it can do for their business can visit PhotoVisionVideo.com.
About PPA:
Professional Photographers of America (PPA) is the largest international nonprofit association created by professional photographers, for professional photographers. Almost as long-lived as photography itself, PPA's roots date back to 1869. It assists more than 28,500 members through protection, education and resources for their continued success. See how PPA helps photographers be more at PPA.com/BeMore.