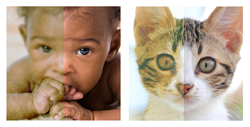 The photographic industry may have changed a lot, but one thing will never change: people will always want quality images on their walls!
Atlanta, GA (PRWEB) October 29, 2015
Professional Photographers of America (PPA) today announced that it will be providing a new set of free marketing tools to its more than 28,500 members as part of the organization's See The Difference® consumer awareness campaign. Since 2010, PPA has invested more than $1 million in advertising and public outreach, to help consumers see the difference professional photographers make, and is now giving its members free tools to help them show prospective clients the benefits of hiring a professional photographer.
The toolkit is available to all PPA photographers and includes:

Shareable Videos: More than a dozen videos showcasing wedding, family, senior and pet photography. These videos appeal to consumers' emotions by showing real clients who share their stories and talk about why it's so important to have a pro capture once-in-a-lifetime moments.
Logos: PPA and See The Difference® logos that members can display on their website, brochures or social media platforms to show clients and prospects that they're backed by a well-established and trustworthy association.
Consumer Tips & FAQs: Easy-to-use consumer tips and frequently asked questions (FAQs) will help photographers' clients and prospects understand what to look for when evaluating photographers and give them tips on how to take beautiful photos. These help emphasize the difference professional photographers provide in quality of work and service.
Custom Brochures: Marketing materials that highlight the four cornerstones of professional photography: consistency, technical skills, artistry and professionalism. Photographers can select from one of four templates that best fits their specialty – wedding, family, senior, or Certified Professional Photographer (CPP). All brochures are editable and are meant for photographers to insert their own images and studio information, print and display the brochures in their studio, or hand them out at trade shows and expos.
Side-By-Side Comparisons: templates that show the differences between amateur and professional photography. Photographers can choose from two comparison templates, then insert their own image and make an amateur version of the same photo to show the differences in artistry and technique. Side-by-side comparisons can be displayed in a photographer's studio or run as a slideshow on a monitor in their waiting room.
PPA photographers can also link to dedicated web pages that showcase wedding, family, senior and pet photography, as well as the benefits inherent in hiring a professional for each of these specialties. Since 2013, these web pages have been viewed more than 750,000 times. Each page includes:
A video featuring real people who hired PPA photographers
Ads that link to a "What's Your Photography Style?" quiz
Tips on working with a photographer
Questions to ask a photographer
Find-A-Photographer search tool
For more information on these free marketing resources, visit See The Difference. Professional photographers looking to gain more credibility or more visibility should take advantage of these resources and become members of PPA. They can do so at PPA.com/Join.
About PPA:
Professional Photographers of America (PPA) is the largest international nonprofit association created by professional photographers, for professional photographers. Almost as long-lived as photography itself, PPA's roots date back to 1869. It assists more than 28,500 members through protection, education and resources for their continued and sustainable success. See how PPA helps photographers be more at PPA.com/BeMore.