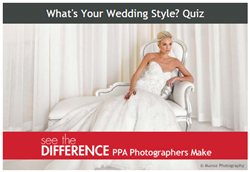 PPA helps brides find their wedding photography style & see the difference hiring a pro makes
ATLANTA, GA (PRWEB) October 22, 2015
Simple or frilly, on a beach or in a chapel, long and formal or short and casual – regardless of the wedding, what's left to share months and years after are the photos. Wedding photos will be looked at time and again to remember this once-in-a-lifetime day. But finding the right photographer who really knows how to capture the moment and convey - through photos - how the Big Day went and felt is the trick.
To help brides who are planning their wedding, Professional Photographers of America (PPA) created a quick and fun quiz to help them define their wedding style and, in turn, find a photographer who will best depict their aesthetic, emotions or story – all based on photos. The newly updated, three-minute quiz with the latest photos and trends is at PPA.com/WeddingPhotoQuiz.
By answering five questions in the "What's Your Wedding Style?" quiz, brides can find out what their wedding photography style is – vintage, shabby chic, modern, classic or eclectic, as well as find tips on choosing the right photographer to match their personal style and find a professional wedding photographer. Brides can also watch a short video to see how real brides-to-be react to true horror stories about bad wedding photography and how hiring a professional photographer can make all the difference in capturing memories that will last a lifetime.
For more information on wedding photography or to find a PPA wedding photographer near you, visit PPA.com/WeddingPhotographer.
About PPA
Professional Photographers of America (PPA) is the largest international non-profit association created by professional photographers, for professional photographers. Almost as long-lived as photography itself, PPA has roots that date back to 1869. It assists more than 28,000 members through protection, education and resources for their continued success. See how PPA helps photographers be more at PPA.com.