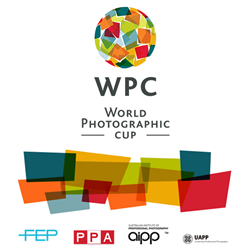 WPC involves the best professional photographers from around the world in true Olympic style!
ATLANTA, GA (PRWEB) October 28, 2015
The Olympics of the photography world is officially underway. The World Photographic Cup (WPC), co-founded by Professional Photographers of America (PPA) and the Federation of European Photographers (FEP), today announced that 28 countries from across four continents will square off in 2016. The national teams will be vying to win the cup from two-time defending winner Team USA.
The WPC's mission is to unite photographers in a spirit of friendship and cooperation. This year's list of registered countries spans from the U.S. to Japan to the Czech Republic to New Zealand. The full list of countries can be found at: WorldPhotographicCup.org/Enter-Your-Country/.
"The WPC is unlike any other photographic competition in that it not only involves the best professional photographers from around the world, but in true Olympic style, it offers countries the chance to compete against each other," said PPA CEO David Trust. "The result is an incredible portfolio of photography from across the globe that shines a bright light on our industry."
Each country can only be represented by one team, which is created by a national association comprised of professional photographers. Teams pick their own photographers and images to enter.
Teams may submit up to three images in each of six categories: Portrait, Wedding, Commercial (including advertising, architecture, industrial, fashion), Illustrative/Digital Art, Reportage/ Photojournalistic and Landscape/Wildlife. Teams may choose to enter the images of a single photographer in multiple categories; no single photographer may have multiple images entered into a single category.
Gold (1st), Silver (2nd), and Bronze (3rd) medals are awarded to the individual creator in each category. Teams are awarded points based on an aggregate score of the top ten placements in all categories. The World Photographic Cup is awarded to the national team that receives the highest overall score. In the first two competitions, Team USA tallied the most points and emerged as the winner in tight battles for the cup.
The finalist images in each category will be announced and shown at Imaging USA in Atlanta, on January 11, 2016, and circulated after that. The WPC and the 18 medal winners will then be presented March 14, 2016 in Oporto, Portugal.
For more information on the World Photographic Cup visit WorldPhotographicCup.org.
About PPA
Professional Photographers of America (PPA) is the largest international nonprofit association created by professional photographers, for professional photographers. Almost as long-lived as photography itself, PPA has roots that date back to 1869. It assists more than 28,500 members through protection, education and resources for their continued success. See how PPA helps photographers be more at PPA.com/BeMore.