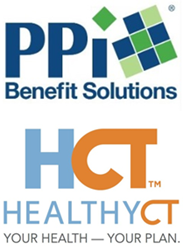 Wallingford, CT (PRWEB) September 11, 2014
HealthyCT is a Consumer Operated and Oriented Plan (CO-OP) where any profits are invested back into products, programs, services and future premium stabilization or reduction. It has a statewide network of more than 15,000 providers, and it provides health insurance coverage to individuals, small and large groups.
Through PPI, HealthyCT can offer groups with 51 or more employees a benefits administration platform that consolidates online enrollment, a powerful HR portal, integrated COBRA administration, consolidated billing, and claims advocacy for a broad range of benefits and carrier products all in one place. The addition of PPI's services will add tremendous new value for employers and brokers.
"HealthyCT has designed a compelling model of health care delivery and management, and we are very excited to add HealthyCT as a preferred carrier to our portfolio of health insurance plans," said Luis Nunes, President & CEO of PPI Benefit Solutions. "PPI has an established track record of delivering new business to our carrier partners while helping brokers deliver a more comprehensive offering to employers and their employees."
"By leveraging the proven technology and services of PPI, HealthyCT will now deliver greater performance and value to our large group clients," said Ken Lalime, CEO of HealthyCT. "The PPI platform helps our clients' busy Human Resources professionals streamline the administration of their HealthyCT plan along with many of their other benefit offerings at the same time. It is a tremendous value-add and timesaver for them."
About PPI Benefit Solutions
PPI Benefit Solutions helps employers relieve the day-to-day challenges of managing an employee benefits program. With over 40 years of benefits administration experience, PPI leverages strategic relationships with a broad array of nationally recognized insurance carriers and powerful, web-based technology to provide a single solution for multiple carrier enrollments and eligibility processing, true premium billing, COBRA Administration, and member advocacy services, all at little or no cost to the employer. Working exclusively through brokers, PPI serves over 1,300 clients and nearly 100,000 employees. PPI can be found at http://www.ppibenefits.com; on Facebook, Twitter, LinkedIn, and Google+ @PPIBenefits and at 10 Research Parkway in Wallingford, CT; or call toll-free, 1-888-674-0046.
About HealthyCT
Founded by physicians, HealthyCT's mission is to provide Connecticut residents with comprehensive health insurance and easy access to quality healthcare. It is committed to developing an innovative, progressive health plan that ensures the delivery of patient-centered care for individuals, families and businesses of all sizes. Unlike traditional for-profit insurance companies, any profits generated by HealthyCT are to be used to stabilize or reduce premiums to consumers and businesses, and/or to enhance plan benefits and services. HealthyCT can be found at http://www.healthyct.org; across social media @HealthyCTPlan and at 35 Thorpe Avenue in Wallingford. HealthyCT's toll-free phone number is 1-855-HLTHYCT (458-4928).