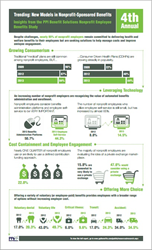 Wallingford, CT (PRWEB) June 05, 2014
PPI Benefit Solutions (PPI), a leading provider of benefits administration technology and services with over 40 years of experience working with nonprofit organizations, has released the results of The Fourth Annual Nonprofit Employee Benefits Study that measures and tracks benchmarks of private, nonprofit employee benefit plans. The study results indicate a growing trend toward consumer-driven options (such as High Deductible Health Plans) and online employee self-service tools in an attempt by employers to curb rising premiums and cut administration costs while continuing to offer competitive benefit programs.
The nationwide survey, completed by over 250 small to mid-sized nonprofit organizations in November 2013, found that the use of traditional "medical" plans has decreased from 96.0% in 2009 to 83.6% in 2013, while the use of High Deductible Health Plans (HDHPs) has nearly doubled, rising from 22.0% in 2009 to 43.5% in 2013. At the same time, employers are offering more voluntary benefits to help subsidize the higher deductibles and offer employers more choice.
"Nonprofits are really struggling to maintain a comprehensive benefits package, and consumer-driven plans like HDHPs, health savings accounts and flexible spending accounts can be great, lower-cost options." said Karen Greco, Director of Marketing for PPI Benefit Solutions. "The growth in these plan types, combined with the appeal of a predictable benefits budget, is also driving a lot of interest in alternative funding and enrollment solutions like defined contribution with an online marketplace that offers a wide array of product options."
To address issues of efficiency, a growing number of nonprofit employers are recognizing the value of automated benefits administration and enrollment, as indicated by the 77.2% of employers (up from 28.4% in 2012) who consider benefits administration platforms to be very important and the 44.3% of employers (up from 9.6% in 2012) who believe employee self-service portals to be very important.
"Although the nonprofit sector has been somewhat slow in adopting employee self-service enrollment, the number is steadily growing," says Greco. "We see it in our own business, as year after year more nonprofit employers recognize how online, employee-directed enrollment improves accuracy, transparency, and engagement and provides employees with a greater understanding of their benefit options."
As the health care marketplace continues to evolve, nearly 85% of nonprofit employers remain committed to delivering health and welfare benefits to employees in order to improve satisfaction and maintain a competitive advantage for talent. The findings of PPI's Fourth Annual Nonprofit Employee Benefits Study can help these employers benchmark their own benefit plans and management practices, and also includes information on average payroll deductions, waiting periods, and contribution strategies, among other topics.
Among the key findings of the study:

o 83.6% offer traditional medical plans (down from 87.0% in 2012)
o 43.5% offer HDHPs (up from 39.0% in 2012)
o 88.7% offer group dental (down from 90.0% in 2012)
o 59.1% offer ancillary coverage (up from 46.5% in 2012)

Voluntary benefits (percentage of nonprofit employers who offer):
o 20.3% offer voluntary dental (up from 17.0% in 2012)
o 49.7% offer voluntary life (up from 43.0% in 2012)
o 9.6% offer critical illness insurance (up from 6.0%)
o 34.5% offer accident insurance (up from 34.0% in 2012)
o 24.3% offer transit reimbursement (up from 17.0% in 2012)

o 16.1% pay the full cost of health insurance
o 74.8% share the cost of health insurance between employer and employee
o 21.9% already use or are likely to use a defined contribution funding approach

o 77.2% view benefits administration platforms as very important
o 44.3% believe employee self-service portals are very important (up from 9.6% in 2012)
o 14.5% of employees utilize employee self-service (up from 8.8% in 2012)

o 16.2% are moderately to very likely to discontinue health care coverage and send employees to a public, state, or federal exchange
o 60.5% of nonprofits have not calculated the cost of compliance with Health Care Reform (ACA) regulations

Private Exchange Marketplace:
o 15.8% are somewhat to very likely to begin offering benefits through a private exchange
o 47.6% would consider using a private exchange if they had more information
PPI Benefit Solutions has compiled these findings into a free report, which is available at http://www.ppibenefits.com/public/resources/research.aspx. If you are a private nonprofit and are interested in participating in the next survey, please contact research(at)ppibenefits(dot)com.
About PPI Benefit Solutions
PPI Benefit Solutions helps smaller, mid-sized employers relieve the day-to-day challenges of managing an employee benefits program. With over 40 years of benefits administration experience working with nonprofit organizations, PPI leverages strategic relationships with a broad array of nationally recognized insurance carriers and powerful, web-based technology to provide a single solution for multiple carrier enrollments and eligibility processing (including online enrollment and employee self-service), electronic eligibility data and discrepancy management, true premium billing and payments, COBRA Administration, and member advocacy services, all at little or no cost to the employer. Working exclusively through brokers, PPI serves over 1,300 clients, mainly in the Tri-State, Northeast and Mid-Atlantic regions. For more information, visit http://www.ppibenefits.com.