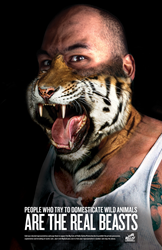 To be recognized multiple times in such a prestigious international competition is a huge honor.
Tampa, Florida (PRWEB) June 04, 2014
PP+K was bestowed with nine honors, including the coveted Platinum award, in the Graphis Advertising Annual 2014 competition. 'The Real Beasts,' a piece created for Big Cat Rescue by Art Director Palmer Holmes, Creative Director/Copywriter Michael Schillig, and Executive Creative Director Tom Kenney, was awarded Platinum under the category of Public Services. PP+K was one of only seven agencies worldwide to receive this distinguished award.
PP+K also received Silver honors for a variety of works, including 'Hourglass' and 'Beehive Tire' (Tires Plus) and 'Sand Tiger Shark Teeth' (The Florida Aquarium). Merit honors were bestowed for 'Seagrapes Wine Festival' and 'Python Takes Over Billboard Space' (The Florida Aquarium), 'No Place For A King' (Big Cat Rescue), 'Really Good Burger' (Big Boy Restaurants International, LLC), and 'Weapon' (PP+K)
"To be recognized multiple times in such a prestigious international competition is a huge honor," says Tom Kenney, executive creative director at PP+K. "Being able to win awards for five different clients shows the level of creativity that we bring to our wide-ranging accounts."
This marks the seventh year in a row that PP+K has been honored and featured in the Graphis Advertising Annual publication. "We are thrilled to produce award-winning work for our wide-ranging client accounts," says Kenney. "They recognize that our unique and memorable concepts win over consumers' hearts and create strong, bottom-line business results."
About PP+K
PP+K is a Tampa-based, full-service advertising and production company that helps clients develop creative solutions to business challenges. From initial concepts to final placements, PP+K specializes in the full spectrum of development, deployment and testing.
About Graphis
Publishing the world's most significant and influential works from the greatest talent in Design, Advertising, and Photography since 1944, Graphis is committed to embracing the entire artistic community, bringing together aspiring young artists and established, award-winning professionals alike.