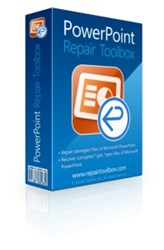 a powerful PPT repair solution with a highly intuitive interface and an updated file analysis core.
Sacramento, CA (PRWEB) August 14, 2013
Repair Toolbox, a well-known supplier of premium-quality data recovery tools and a recognized expert in this field, is glad to announce the recent release of PowerPoint Repair Toolbox http://www.pptrepairtoolbox.com/ , the newest and the most powerful tool of its kind. Based on a totally updated recovery engine, this PPT repair solution offers a new level of recovery efficiency and is capable of restoring presentations from files that were badly damaged http://www.repairtoolboxx.com/products.html in all kinds of data corruption incidents: from hardware and OS crashes to virus attacks and power failures. Created for the average user, the program has a highly intuitive interface with a bare minimum of controls and just a few steps of the built-in recovery wizard. PowerPoint Repair Toolbox http://www.powerpoint.repairtoolboxx.com/ works with PPT and PPTX files of all versions and applies a combination of advanced algorithms for thorough file analysis and extraction of the maximum of data. The program restores hand-made graphic shapes, text, as well as paragraph styles and effects. All embedded media objects are saved to a separate folder on the user's hard drive. For convenience, charts are restored both as images and Excel chart objects that support editing.
"PowerPoint Repair Toolbox is one of the fastest – and definitely the most efficient – solutions of its kind," explained Ivan Bobrov, Head of Development at Repair Toolbox. "It has the same super-intuitive UI that so many users of the previous versions liked so much, but is now based on an all-new engine that really makes it stand out in terms of speed and quality of recovery."
Download PowerPoint Repair Toolbox from: http://www.repairtoolboxx.com/download.html