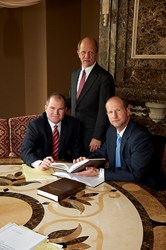 St. Louis, MO (PRWEB) September 17, 2013
A Status Conference occurred on September 4th in the Pradaxa Products Liability Litigation (MDL No. 2385, United States District Court, Southern District of Illinois), after which Mark Niemeyer, a partner with the law firm of Onder, Shelton, O'Leary & Peterson, LLC who is serving as Co-Liaison in the Pradaxa internal bleeding lawsuit, provided an update regarding the overall progress of the Pradaxa lawsuit. The sample trials, referred to as bellwether trials, in the Pradaxa Multi-District Litigation are moving quickly toward expert witness designation. Bellwether trials are the tool generally used to move a litigation towards resolution framework. The Pradaxa internal bleeding bellwether trials are set to begin next August. Additionally, high-ranking officials with Boehringer Ingelheim Pharmaceuticals, Inc., the manufacturer of Pradaxa, have been ordered to appear and explain allegations of discovery abuse. The plaintiffs' lawyers in the Pradaxa lawsuits have repeatedly made complaints of Boehringer Ingelheim's withholding and late production of corporate information related to the manufacture and marketing of Pradaxa. Earlier this year, Boehringer Ingelheim attempted to block the Pradaxa internal bleeding lawyers from discovering the documents reviewed by a deponent in advance of that person's disposition. The Court struck down this attempt and required disclosure of all documents reviewed by a deponent, describing the Defendant's position as disingenuous (Case Management Order No. 31 Regarding Defendants Discovery of Documents Reviewed by Deponents). The previous Case Management Order (No. 30 Production of BIPI Employee Personnel Files) denied Boehringer Ingelheim's lawyers' attempt to block the Plaintiffs from discovering aspects of the company's deponent personnel files, including bonus and compensation information.
The Pradaxa Multi-District Litigation is the result of a large number of Pradaxa lawsuits filed throughout the country alleging Pradaxa internal bleeding, frequently resulting in death. The lawsuits were consolidated to form the Pradaxa Multi-District Litigation being tried in federal court in Southern Illinois. Pradaxa lawsuits are not class action lawsuits. Pradaxa is an anticoagulant was approved by the FDA in 2010 to prevent stroke in people with atrial fibrillation. A January 2013 report by the Institute for Safe Medication Practices (ismp.org/quarterwatch/pdfs/2012Q2.pdf) compared serious adverse drug events reported to the FDA under the FDA Adverse Event Reporting System, also known as MedWatch, for Pradaxa, Xarelto and warfarin during the second quarter of 2012. It found that Pradaxa use resulted in death nearly two and a half times as frequently as Xarelto and almost five times greater than warfarin.
Mark Niemeyer and the pharmaceutical litigation department at Onder, Shelton, O'Leary & Peterson, LLC handling Pradaxa cases wish to inform the families of those who took Pradaxa and then suffered a severe internal bleeding event, such as gastrointestinal internal bleeding or hemorrhagic stroke, that they may still join the Pradaxa internal bleeding multi-district litigation. The Pradaxa lawyers at Onder, Shelton, O'Leary & Peterson are offering a free case review with no further obligation to the families of persons who experienced severe internal bleeding after using Pradaxa. The firm is representing all persons who file a Pradaxa lawsuit on a contingency basis with no cost to the client unless they successfully win compensation for them. Although the firm is centrally located in St. Louis, Missouri, it represents clients throughout the United States. St. Louis is the closest metropolitan area to the court handling the Pradaxa Products Liability Litigation.
Niemeyer also invites other attorneys to consult with a Pradaxa lawyer at the firm, which are available either to handle those cases or work as co-counsel.
About The Onder Law Firm
Onder, Shelton, O'Leary & Peterson, LLC is a St. Louis based personal injury law firm handling serious injury and death claims across the country. Its mission is the pursuit of justice, no matter how complex the case or strenuous the effort. Onder, Shelton, O'Leary & Peterson has represented clients throughout the United States, and other firms throughout the nation often seek its experience and expertise on complex litigation. It is a recognized leader in products liability cases such as window blind cord strangulation and pharmaceutical litigation. The Onder Law Firm offers information pertaining to Pradaxa internal bleeding dangers at http://www.pradaxalawsuitcenter.com.