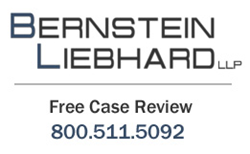 Thousands of Pradaxa lawsuits have been filed on behalf of individuals who allegedly suffered serious, and in some cases, fatal episodes of bleeding due to this drug.
New York, New York (PRWEB) March 05, 2014
As thousands of Pradaxa lawsuits (http://www.pradaxalawsuithelp.com/ ) continue to move forward in federal court, Bernstein Liebhard LLP notes that newly unsealed court documents indicate that Boehringer Ingelheim did not inform federal regulators of a data analysis that indicated Pradaxa was associated with a higher death rate from internal bleeding than previously thought. According to a report from Bloomberg.com, the analysis in question was conducted after the U.S. Food & Drug Administration (FDA) cleared Pradaxa for sale in October 2010. However, the company did share a second analysis with the FDA that was conducted with the same data, but which put Pradaxa in a more favorable light.*
According Bloomberg.com, the documents were unsealed in the federal Pradaxa litigation now underway in U.S. District Court, Southern District of Illinois on February 19th. A spokesperson for Boehringer Ingelheim did not dispute that the less-favorable analysis was withheld, but maintained that the company chose to share the analysis that was "most appropriate" with the FDA, as well as the underlying data.
"Thousands of Pradaxa lawsuits have been filed on behalf of individuals who allegedly suffered serious, and in some cases, fatal episodes of bleeding due to this drug. Our Firm continues to hear from potential plaintiffs on a regular basis, and we will be monitoring this issue very closely," says Bernstein Liebhard LLP, nationwide law firm representing victims of defective drugs and medical devices. The Firm is offering free legal evaluations to individuals who suffered cerebral hemorrhage, gastrointestinal bleeding, and other serious episodes of internal bleeding, allegedly due to Pradaxa.
Pradaxa Bleeding Allegations
According to court documents, at least 2,300 Pradaxa lawsuits have been filed in the Southern District of Illinois on behalf of individuals who were allegedly injured by Pradaxa. Among other things, plaintiffs claim that Boehringer Ingelheim failed to provide adequate warnings regarding the risk for internal hemorrhaging, especially the lack of an antidote to reverse Pradaxa bleeding. (In Re: Pradaxa (Dabigatran Etexilate) Products Liability Litigation – MDL No. 2385)
Pradaxa was intended to replace warfarin, a blood-thinner that has been in use for decades. But according to Bloomberg.com, there is no readily-available antidote to stop the internal bleeding that can occur in Pradaxa patients. By contrast, warfarin bleeding can be stopped via the administration of vitamin K. Boehringer Ingelheim is currently in the process of testing a remedy for Pradaxa bleeding, Bloomberg.com said.
A recent report from 7 Action News in Detroit revealed that FDA data indicate that Pradaxa has been blamed for 1,158 U.S. deaths and 12,494 serious injuries. Complaints related to Pradaxa outpaced those for any other prescription drug between 2011 and 2012.**
In December 2013, the FDA announced a new, large-scale assessment of Pradaxa bleeding rates in relation to warfarin.
Alleged victims of Pradaxa bleeding may be entitled to compensation for their injury-related damages. To learn more about filing a Pradaxa lawsuit, please visit Bernstein Liebhard LLP's website, or call 800-511-5092 to schedule a free, no obligation case review.
*bloomberg.com/news/2014-02-25/boehringer-kept-pradaxa-analysis-from-fda-records-show.html, Bloomberg.com, February 25, 2014
**wxyz.com/money/consumer/pradaxa-lawsuit, 7 Action News, February 25, 2014
Bernstein Liebhard LLP
Bernstein Liebhard LLP is a New York-based law firm exclusively representing injured persons in complex individual and class action lawsuits nationwide since 1993, including those who have been harmed by dangerous drugs, defective medical devices and consumer products. The firm has been named by The National Law Journal to the Plaintiffs' Hot List, recognizing the top plaintiffs firms in the country, for the past 12 consecutive years. Bernstein Liebhard LLP is the only firm in the country to be named to this prestigious list every year since the list was first published in 2003.
Bernstein Liebhard LLP
10 East 40th Street
New York, New York 10016
800-511-5092
ATTORNEY ADVERTISING. © 2014 Bernstein Liebhard LLP. The law firm responsible for this advertisement is Bernstein Liebhard LLP, 10 East 40th Street, New York, New York 10016, 800-511-5092. Prior results do not guarantee or predict a similar outcome with respect to any future matter.
Contact Information:
Felecia L. Stern, Esq.
Bernstein Liebhard LLP
info (at) consumerinjurylawyers (dot) com
http://www.pradaxalawsuithelp.com/
https://plus.google.com/115936073311125306742?rel=author