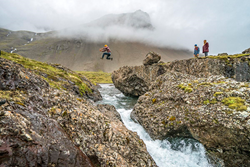 We are thrilled to join the vibrant local community and connect with both our loyal and future customers
Carlsbad, CA (PRWEB) October 16, 2015
prAna celebrated their newest location in Palo Alto with the local community, brand executives and ambassadors at Town & Country Village on Saturday, October 10th.
"Palo Alto is full of exciting energy and new ideas," said prAna's CEO, Scott Kerslake. "We are thrilled to join the vibrant local community and connect with both our loyal and future customers."
The Grand Opening event was a full day of celebrating; with free giveaways, special discounts and door prizes for the first 100 attendees. prAna ambassadors and professional surfers Nole Cossart and Kelly Potts were both in attendance as well.
prAna creates built-to-last apparel for free-spirited people to pursue their passions from the mountains to the beach, and the yoga mat. It's inspired by travel to far-off places, and born from the experience of its adventurous friends and ambassadors. Each prAna store showcases its products, heritage and the sustainable practices the brand is known for.
"We can really bring the brand to life at our new location in Town and Country Village," continued Kerslake. "Not only can customers come in to see the details behind our products, they can also learn more about our sustainability practices and get styling advice from our staff."
The prAna store in Palo Alto is located on the corner of El Camino Real and Embarcadero Road. To learn more, please visit http://www.prana.com/life/retail-stores/palo-alto-store/
About prAna
prAna clothing and gear is made with intention. Every detail — from trim to fabric and hangtags — is carefully designed to enhance our lives today while still considering the needs of tomorrow. For more than 22 years, this vision has been at the root of prAna's relationships with customers and retailers. prAna clothing is designed in Southern California with style and versatility in mind. prAna is deeply committed to mitigating the impact they have on the environment every step of the way, from manufacturing to retail. It takes special care to ensure its clothing and accessories are made in safe and fair working conditions. prAna is sold in five flagship stores, online at prana.com, and in 1,400 specialty retailers across the US, Canada, Europe and Asia. prAna is one of the portfolio brands of Columbia Sportswear Company (COLM).
Find @prAna on Facebook, Twitter and Instagram.